Ever wondered what happened to Hansel and Gretel after their iconic fairy tale ended? Well, the filmmakers behind Hansel and Gretel: Witch Hunters answer that question for those who are curious. Even for those who never gave it a thought, the Jeremy Renner and Gemma Arterton portrayal of the lost-in-the-woods siblings who encounter a less-than-savory witch is a pretty original idea.
Our Hansel and Gretel: Witch Hunters review finds first and foremost the casting of Renner and Arterton is spot-on. It is also quite nice to see a female and male lead in an action flick be siblings and not romantic interests for each other. The sibling as fighting duo concept is rarely used and given Hansel and Gretel's back story, we found it uniquely joyous.
Overall though, the film is not quite the gangbusters we thought it could be. Sure, it looks great... as seen in these Hansel and Gretel: Witch Hunters stills. Perhaps it's the concept has been painted too broadly. Yes, Hansel and Gretel have grown up and taken their loathing of witches to a new level by making their life about destroying them. Movie Fanatic would have liked to have seen the pair focus on one evil-doer instead of finding the film spreading itself so thin as the story spans the European continent while the witch hunters for hire wipe away the entire witchy race. 
The special effects, as teased in the Hansel and Gretel: Witch Hunters trailer, are solid -- especially in 3D. Yes, this is a 3D movie and there may be some backlash to the format of late, but surprisingly in this instance, director Tommy Wirkola uses it efficiently and effectively.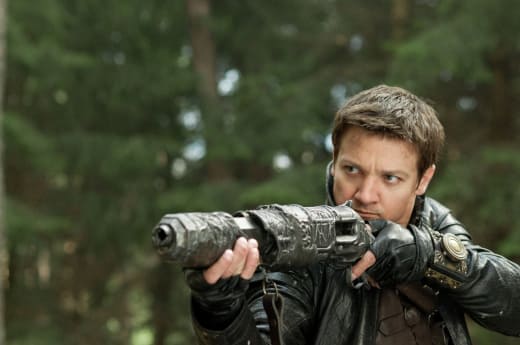 Wirkola is working from the script he co-wrote with Dante Harper and unfortunately, as a whole, it is a story that stretches too thin by the closing credits. The focus here should have been more keen and instead these broad strokes of plot movement simply did not work.
Will there be more Hansel and Gretel: Witch Hunters? Perhaps, that will be up to the audience if they turn out in droves to see if the Grimm Fairy Tale 2.0 strikes their fancy. Personally, I would love to see more of Arterton and Renner together as the titular characters. Just hopefully, in a slightly better context.