For fans of Hot Tub Time Machine, news has arisen that should get the jets in your hot tub roaring. Rob Corddry, while visiting with our friends at iamROGUE.com, admitted that it appears that the Hot Tub Time Machine sequel is moving forward. We at Movie Fanatic, judging by our initial Hot Tub Time Machine review, could not be more thrilled.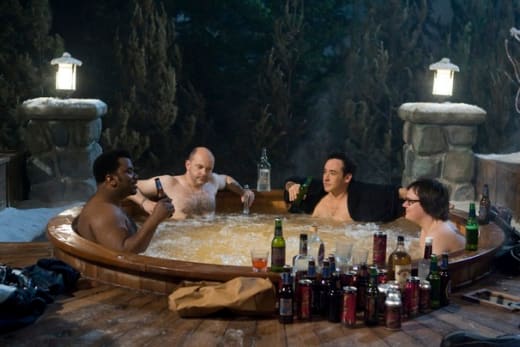 The wildly original film -- that stars Corddry, John Cusack, Craig Robinson and Clark Duke -- produced more than its share of memorable Hot Tub Time Machine quotes and it is no wonder why it has spawned a sequel.
Although Corddry said that it was not clear at this point if Cusack was on board, the rest of the cast is down for heading back into the hot tub for future comic adventures. "It's exciting," Corddry said. "There's a first draft... for a first draft, it's super solid."
As for when they would film? Corddry said they're waiting on a certain someone's hit show to close its curtain. "We're waiting for The Office to wrap and for Craig's (Robinson) schedule to open up and then we'll do it."
Toss on those swim trunks people... it's time to go back in time!
For the entire video interview be sure to check out the full story on the Hot Tub Time Machine sequel.