Adam Sandler as an animated Dracula who is obsessed with protecting his vampire daughter Mavis? Count us in! If you missed the theatrical release of Hotel Transylvania, now is your chance to catch up with the delightful film that is fun for the whole family as it arrives on DVD, Blu-Ray and Blu-Ray 3D. As we stated in our Hotel Transylvania review when the film hit theaters, this is one ride that is equally as heartwarming as it is hilarious.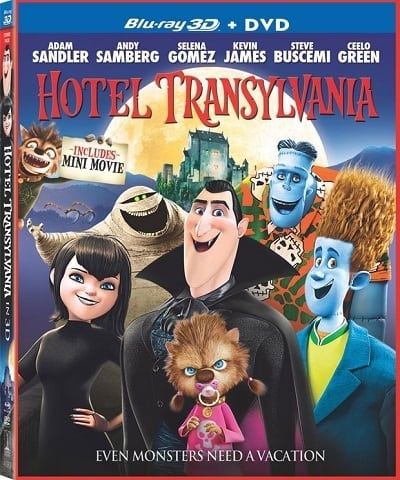 The story follows Sandler's Dracula as he raises Mavis (Selena Gomez), his vampire daughter, as a single father. Worried about her safety in a world where humans sport pitchforks and fiery torches in an effort to kill monsters, he builds a hotel where monsters of all walks of life can exist in peace and safety.
As the film truly gets going, it is revealed that it is Mavis' 118th birthday and her father has promised to let her go in out into the world beyond the walls of Hotel Transylvania. What's a father to do? Let's just say he makes his commitment to his daughter happen, and simultaneously reinforces his will to keep her close to home. 
Even shown off in the quickest of formats, the Hotel Transylvania trailer, filmmaker Genndy Tartakovsky has painted a world in vibrant colors that features some of the classics of monster movies from Frankenstein and his wife (Kevin James and Fran Drescher) to the Wolfman (Steve Buscemi), the Mummy (Cee-Lo) and the Invisible Man (David Spade). The bonus feature Meet the Staff and Guests: Voicing Hotel Transylvania provides a priceless view into the creative process of the above mentioned voice actors.
Given the director's vision, the Tartakovsky commentary track is interesting and educational for the kids to see how the magic came together on Hotel Transylvania. The deleted scenes are fun, and quite informative after witnessing the whole film!
And given that this is a family film of the highest order, be sure to show the kids the bonus documentary, Making the Hotel. One never knows if you could be inspiring the next generation of animated geniuses!