Movie Fanatic is happy to be teaming up with Movie 43 to offer our readers an exclusive giveaway! The outrageous comedy is divided into twelve sketches, with twelve different directors and a giant cast of well-known actors, including Halle Berry (Cloud Atlas), Elizabeth Banks, Gerard Butler, Kate Bosworth, and Hugh Jackman (Les Miserables), to name just a few.
One lucky winner will receive a Movie 43 prize pack, which includes a Movie 43 hat, a Movie 43 baseball shirt, Movie 43 branded boxers, a movie poster, a $30 Fandango gift card, and a toilet mug. Scroll down to find out how to enter!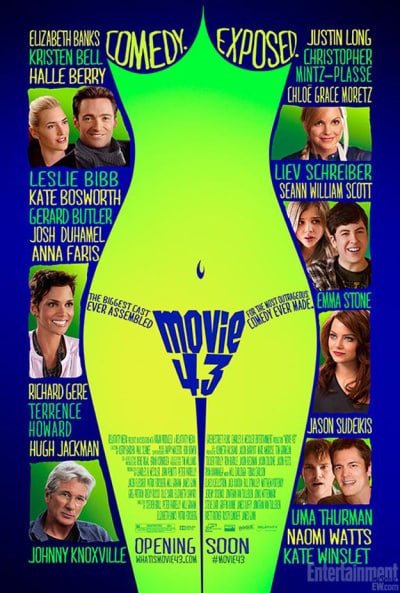 Elizabeth Banks is both a director and actor in Movie 43. What's your favorite Elizabeth Banks movie?
All you have to do to win is...
1. FOLLOW @MovieFanatic on Twitter.
2. RETWEET this tweet along with the title of your favorite Elizabeth Banks movie. Make sure you include "@moviefanatic" and a link to this post in your tweet, so we can see it.
Also be sure to follow us so we can contact you if you're the lucky winner. One winner will be selected at random on Thursdsay, January 24. Good luck!