It's been far too long since Hollywood produced a sketch comedy movie in the vein of Kentucky Fried Movie or Amazon Women on the Moon. Peter Farrelly and producer Chris Wessler clearly felt the same way as was first previewed in their Movie 43 trailer.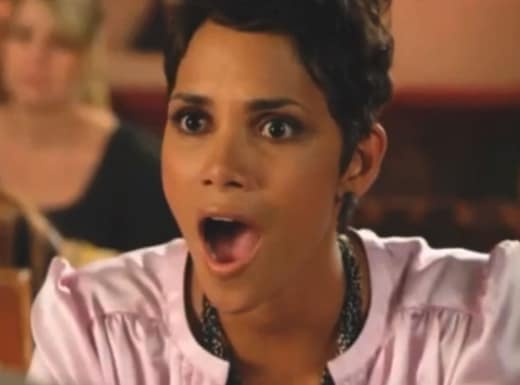 Considering the cast they've compiled for their interconnected comic shorts, looks like much of Tinseltown's A-list missed those wacky comedy movies too. Over a dozen "bits" feature none other than Halle Berry, Hugh Jackman, Richard Gere, Gerard Butler and Johnny Knoxville.
The question Movie Fanatic has to ask in our Movie 43 review: Is it worth the two decade wait to finally have an off-the-chains comedy short movie?
Well, it starts off solid enough with Kate Winslet's sketch and then slowly unravels. There is so much potential here that it is disappointing, but it is an enormous effort to try to re-create magic that now has us thinking that those aforementioned comedies may have been lightning in a bottle. The sketch comedy film may take another two decades to give us something that blows pop culture out of the water as Kentucky Fried Movie did. 
We do have to give Farrelly and Wessler credit on several fronts. First, they interweave all the comic shorts together in a way the keeps the audience tied in to the story until the very end. Those first comedy short movies featured independent, stand-alone bits. Second, they have cultivated a group of writers and directors that show quite a lot of promise in terms of Movie 43 giving us a window into the future of comedy on screen.
Yes, Movie 43 will offend... there is no question -- just check out the Movie 43 red band trailer. And this should not surprise anyone who has ever seen a Farrelly brothers movie. But, be warned: They push the envelope beyond what you've ever seen in a movie before. If that is your cup of tea, than this is your movie. Otherwise... maybe skip Movie 43.