Four new stills have been released for Oz: The Great and Powerful. Take a look (click thumbnails to enlarge):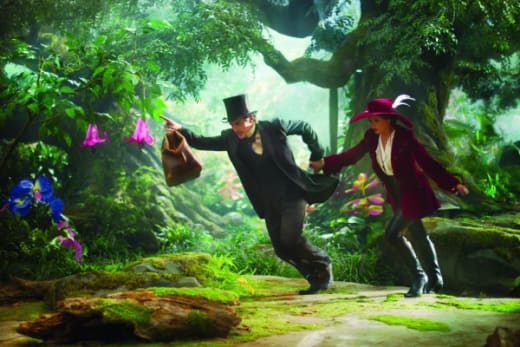 James Franco stars as Oscar Diggs, a circus performer who finds himself magically transported to the land of Oz, where he is presumed to be the legendary Wizard. After initially duping the residents of Oz, Diggs eventually learns the meaning of his great responsibility, and transforms into the Wizard.
Michelle Williams, Mila Kunis (Forgetting Sarah Marshall), and Rachel Weisz star as the witches. Zach Braff (Garden State), Joey King, Abigail Spencer, and Bruce Campbell also star.
Sam Raimi directs the film, which premieres March 8. Until then, check out this Oz: The Great and Powerful Wicked Witch character poster.