Paranormal Activity 4 has arrived on home video and Movie Fanatic received the DVD and Blu-Ray combo pack for review. First thing we have to highlight is the 30 minutes of new footage "discovered" from inside the house at the center of this movie's horror.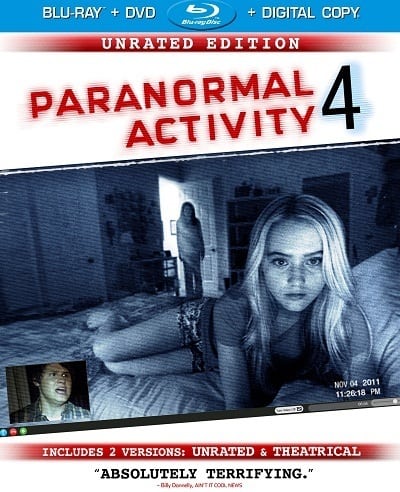 The film series' Svengali, Oren Peli, still oversees the horror, and his handprints are all over it. Although directors Henry Joost and Ariel Schulman have taken over filmmaking duties since Paranormal Activity 3, there is no loss in continuity of quality. Proof of that is evidenced in the ever-escalating box office as the series goes along.
What sets this film apart from the rest of the series, as highlighted in our Oren Peli exclusive interview, is that the franchise can utilize society's current obsession with all things technology that allows us to film practically anything and everything.
As teased in the Paranormal Activity 4 trailer, filmmakers used footage gleaned from the many laptops in the family's house, handheld video cameras, cameras found on smart phones and in the most horrific of developments, the eerie video produced by a Kinect from XBox.
This film is also different in that it involves a different family than the one at the center of the Paranormal Activity series. How it fits into the mythology is one fantastic treat. The action takes place in suburban Arizona with a teenage girl at the center of the action. When a mysterious boy, who lives nearby, winds up staying with them, the horrors begin. How is he connected? You'll have to get the DVD or Blu-Ray to find out! But, it is one fantastical journey.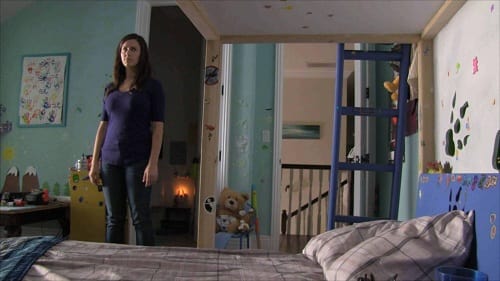 The Blu-Ray/DVD copy Movie Fanatic received to review contains both the theatrical and unrated version of the film. Beyond the 30 minutes of new footage and the two versions of the film, there is nothing in terms of extras. But, that is honestly par for the course for a franchise that has continually teased its terror by shielding its mythology in secrecy. To add a commentary track or bloopers would go against the very grain set forth in the first film.
For fans of the series, and I am one, the Paranormal Activity 4 home video release is a must to add to the collection. It is fascinating to watch all the films in a row to see the brilliant vision of Peli. We only hope there is a fifth to give this filmmaker another chapter to his epic series.