Movie Fanatic is pleased to announce our newest giveaway for Paranormal Activity 4. The fourth installment of the wildly popular Paranormal Activity franchise will be released on Blu-ray and DVD tomorrow, and we are offering our readers a chance to win a copy!
Three lucky winners will receive a copy of the Blu-ray/DVD combo, which includes 30 minutes of extra footage! Scroll down to find out how to enter.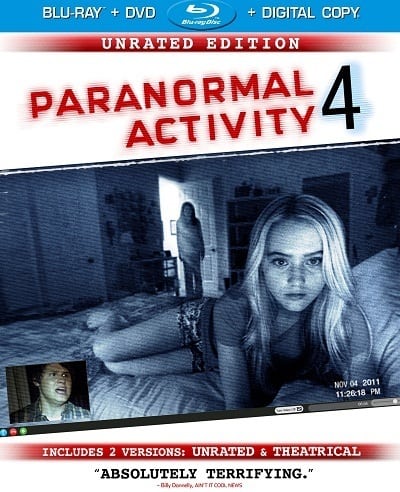 The first Paranormal Activity was one of the progenitors of the found footage genre. What is your favorite found footage film?
All you have to do to win is...
1. FOLLOW @MovieFanatic on Twitter.
2. RETWEET this tweet along with the title of your favorite found footage movie. Make sure you include "@moviefanatic" and a link to this post in your tweet, so we can see it.
Also be sure to follow us so we can contact you if you're the lucky winner. One winner will be selected at random on Monday, February 4. Good luck!