John Krasinski has set himself up nicely for a career after his hit TV show The Office closes its door this May. The actor teamed up with Oscar-winning screenwriter Matt Damon to pen and star in the film Promised Land, out now.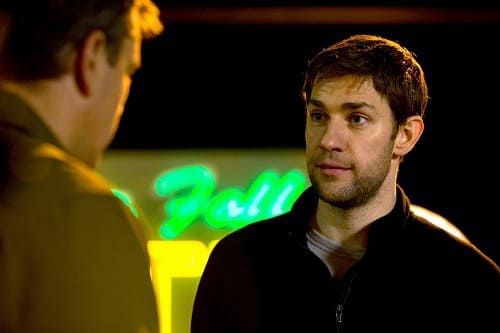 Krasinski sat down for an interview to talk about working with Damon, how he was inspired to come up with the story in the first place that is teased in the compelling
Promised Land trailer
, and how his small town roots played a big part in his first screenwriting effort.
Promised Land is about natural gas companies going into small towns and leasing people's lands to drill for the energy source. Yet, it avoids all those stereotypes about small town America. "I think sometimes the movies just show small town America as the people who just get bowled over by anyone who has an idea and in comes innovation and creators. That's not the truth at all," Krasinski said. 
"These people are very dedicated to their opinions and very proud of where they're from. The truth is that you see what these people are fighting for. It's a self-protective survival mode, and that's what's so admirable about these people really digging in on these issues. And it's happening all over the country."
When it came time to write his script, it was an idea he first came up with two years ago. "My dad grew up in a small town outside of Pittsburgh in Natrona Heights, which was a steel mill town. His dad worked three jobs and they didn't have very much. When I was a little kid -- I was an ignorant eight-year-old -- I said, 'So was your childhood awful?' He was like, 'No, it was amazing. We had friends and family, and there was a sense of community and the faith that tomorrow would be a better day,'" he recalled.
"That really stuck with me my whole life, and I think the older I got, the more I realized that the country was moving away from that sort of pure ideal of community. So that's what the idea came from."
As for the tie-in with the natural gas drilling issue, that in fact came in late in the process after setting up the characters and how they would interact. "The natural gas came in as an issue later on in the project once we had started coming up with these characters and this town. It turned out to be the best backdrop for the story because it was basically just like high-stakes poker," Krasinski said. "There was so much potentially to gain and so much potentially to lose."
As we state in our Promised Land review, this film is quite timely. President Obama said on the campaign trail that there is enough natural gas below our land to power us for 100 years. Krasinski saw how divisive the issue can be firsthand on the Pennsylvania set. "The really moving part was when we actually went to shoot in the town -- they were so generous and so open to have us. But at the same time, people weren't against coming up and telling you how they really felt," he admitted. 
"There were people who came up and said, 'You shouldn't be making this movie.' And five minutes later, someone would come up and say, 'Thank you for making this movie.' We never expected it to be the movie that deals with this issue. Our whole thing was at the end to start a conversation, and whether it's fracking for natural gas or something else, it's like these issues are something that have communities getting together and making decisions for themselves… [which] is really the most important thing, especially this day and age."
Krasinski first hooked up with his co-writer Damon while double dating with the actor and his wife. Krasinski's wife, Emily Blunt, starred with Damon in The Adjustment Bureau and the foursome became compatriots.
"We became friendly right away. One day we were on one of our double dates, and he said, 'I'm actually thinking of directing,'" Krasinski recalled. Damon eventually yielded directing duties to Gus Van Sant. He was clearly intrigued from the get-go about the idea of Promised Land. "He asked me, 'Is there anything you have in the works that you'd be willing to share with me?' I brought him this idea, and he jumped onto it right away."
As told to us in our Matt Damon interview, the screenwriting Oscar winner could not say enough about working with Krasinski. The joyous feeling was mutual. "We worked really well together. We worked really fast. We have similar sensibilities and similar sense of humors, but at the end of the day, I think we're eternal optimists, so we wanted the same thing," Krasinski said.
"We wanted this to be an uplifting kind of Frank Capra, Kazan movie."