If Seth MacFarlane and Joseph Gordon-Levitt ever touch their rings together, it will unleash a power far greater than Earth can handle. The stars are two of the most ubiquitous names in the movie world over the last several months, and  MacFarlane's resume is about to get bigger.
MacFarlane will host the Oscars next month, after his movie Ted earned over $500 million worldwide. Now, a sequel to Ted is on the way.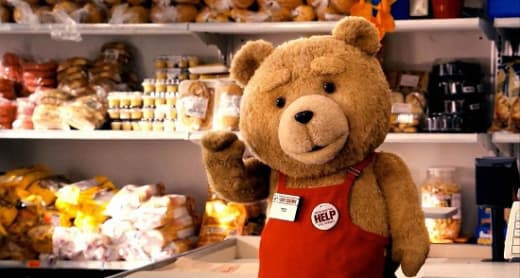 Ted star Mark Wahlberg, whose new movie Broken City came out today, revealed in an interview with Anderson Cooper that a deal has already been reached for Ted 2, and that MacFarlane is currently writing the script. He also said that he will make an appearance with his fluffy co-star at the Oscar ceremony, though he didn't specify in what capacity.
Ted 2 is expected to begin shooting at the end of this year, though no official schedule has been made. Check out some Ted quotes to see why the first movie was such a box-office smash.