The Big Wedding Image: Robin Williams Marries Susan Sarandon and Robert De Niro
by Micah J Gordon at . Comments
We've got a new still from The Big Wedding, featuring Susan Sarandon, Robin Williams (Good Will Hunting), and Robert De Niro. Check it out: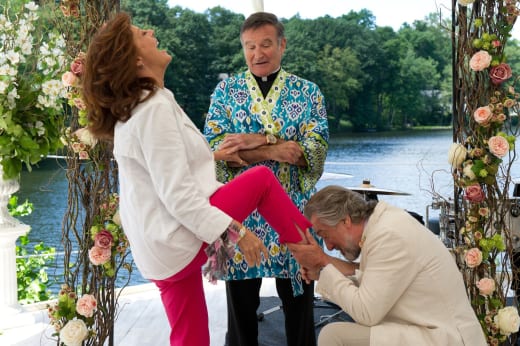 De Niro and Diane Keaton star as a long-divorced couple who must pretend to still be together at their adopted son's wedding. Throughout the day, the deception spins out of control.
Katherine Heigl, Amanda Seyfried (Les Miserables), Topher Grace, Ben Barnes, and Christine Ebersole also star.
Justin Zackham wrote and directed the film, which hits theaters April 26. Watch The Big Wedding trailer for a preview.