Get a first glimpse at Phillip Seymour Hoffman as Plutarch Heavensbee in these new stills from The Hunger Games: Catching Fire, courtesy of EW. Click the thumbnails to enlarge: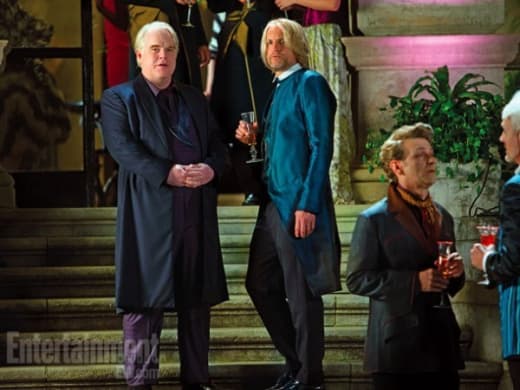 The sequel to last year's The Hunger Games finds Jennifer Lawrence, who just received an Oscar Nomination for Best Actress, returning as Katniss, who tours the districts with Peeta, played by Josh Hutcherson, after their victory. Meanwhile, President Snow, played by Donald Sutherland, prepares for the 75th annual Hunger Games, called the Quarter Quell.
Liam Hemsworth, Woody Harrelson, Elizabeth Banks (What to Expect When You're Expecting), Lenny Kravitz, Stanley Tucci, Sam Claflin, and Jena Malone also star.
Catching Fire is set to be released November 22. Check out the Catching Fire poster for more.