The Jazz Singer has a special place in Hollywood history as it not only served as the coming out party for star Al Jolsen, it marked a seismic shift in moviemaking as it was the genre's first film with sound. Movie Fanatic was given a special Blu-Ray book set to review from Warner Bros. and the package could not be more compelling and needs to be a must-have for any cinephiles out there. It marks another great chapter of Blu-Ray books from Warner's that includes The Forever Marilyn Collection and A Streetcar Named Desire.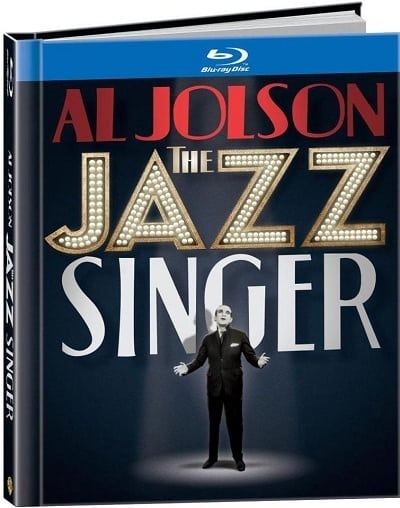 The set is overflowing with incredible bonus features that any film fan that appreciates the medium's history will treasure. In the rare case of every single element of a Blu-Ray release being outstanding, Movie Fanatic cannot highlight just a few. Every single one that is listed below is a must-see.
The special features begin with a stellar commentary by film historians Ron Hutchinson (founder of The Vitaphone Project) and Vince Giordano.
The collection of vintage cartoons and shorts give a window into another era:
Al Jolson in A Plantation Act - 1926 Vitaphone short
An Intimate Dinner in Celebration of Warner Bros. Silver Jubilee – 1930 short
I Love to Singa - Classic 1936 WB parody cartoon directed by Tex Avery
Hollywood Handicap – Classic 1938 MGM short with Al Jolson appearance
A Day at Santa Anita - Classic Technicolor WB 1939 short with Al Jolson & Ruby Keeler cameo appearance
1947 Lux Radio Theater Broadcast starring Al Jolson
Witnessing the theatrical trailer shows how similar selling movies was back in the day versus where we are now.
 
The bonus disc features The Early Sound Era, a  feature-length historical documentary The Dawn of Sound: How Movies Learned to Talk that highlights the not-so-easy effort it was to get Hollywood to join the sound era.
Also on the bonus disc are two rarely-seen Technicolor excerpts from Gold Diggers of Broadway (1929 WB film, most of which is considered lost).
And further proof that this is one must-own collection for any film fan, Warner Bros. includes studio shorts that mark the progression of the early sound era in Tinseltown including:
Finding His Voice (1929 Western Electric animated promotional short, produced by Max Fleischer)
The Voice That Thrilled The World - Warner Bros. short about sound
Okay for Sound: 1946 WB short celebrating the 20th anniversary of Vitaphone
When Talkies Were Young -- 1955 WB short looking back at the early talkies
The Voice from the Screen -- 1926 WB 'demonstration' film explores the Vitaphone technology, and looks at the making of a Vitaphone short.
Speaking of Vitaphone shorts, the Jazz Singer Blu-Ray also features a series of shorts that in the 1920's shows Warner Bros. and their efforts to bring sound motion pictures to the masses utilizing the Vitaphone sound process. From musical and theater veterans to legendary vaudeville acts of the day, it is a powerful close to an already powerful Blu-Ray set.