Woody Allen found the biggest success with his Midnight in Paris. By changing the locales from Paris to Rome in To Rome with Love, the filmmaker was hoping for a great one-two punch. As To Rome with Love lands on Blu-Ray and DVD, we ask: Is the trip as good? Well, our To Rome with Love review of the theatrical release found it not quite as solid, but still pure Woody Allen.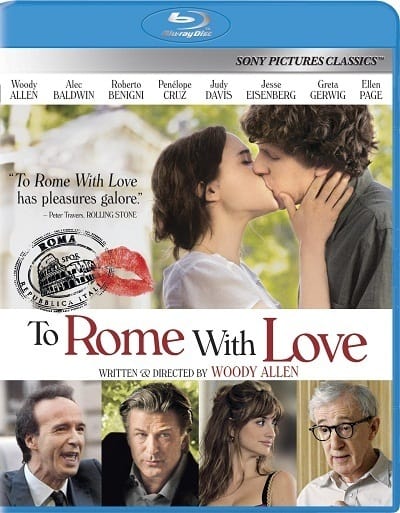 Allen fans will treasure his latest and as he usually does, the moviemaker has assembled an enormous cast. Leading the way is Alec Baldwin, Jesse Eisenberg, Ellen Page, Greta Gerwig and Oscar winners Penelope Cruz and Roberto Benigni.
As teased in the To Rome with Love trailer, the story of the film follows four independent vignettes centered on four characters who find their time in Rome will change their lives forever. An American architect (Baldwin) walks the streets where he once romanced a young Italian woman as a younger man and meanwhile a Rome resident (Benigni) awakes one day and is suddenly a national celebrity where his every move is chronicled. Also chronicled is the story of a young couple from Florence who hit the streets of Rome, only to be pulled apart by two separate romantic entanglements. And lastly, an American opera director (Allen) tries to get a brilliant singer out of the shower where he believes it is the only place he can brilliantly sing.
The extras on the To Rome with Love DVD and Blu-Ray are honestly quite light, but the commentary track by Allen is a priceless lesson in the way the brilliant filmmaker works. His affection for his locales is always felt in the opening moments of the film.
Where he scanned the Parisian landscape in the opening moments of Midnight in Paris, here Allen begins his latest by filling his opening moments with the best of the titular Italian city. So, it's no surprise then that a standout featurette on the home video release is Con Amore: A Passion for Rome. Not only does it highlight Allen's favorite Roman spots, but takes viewers inside the magic of his moviemaking methodology.