Production Designer Jeremy Hindle comes from a unique angle to take us behind the making of director Kathryn Bigelow's Osama bin Laden manhunt epic, Zero Dark Thirty.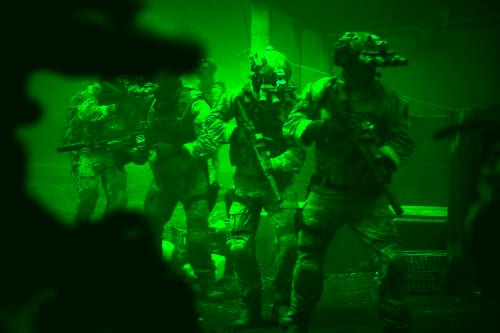 Fresh off its Oscar nominations, Zero Dark Thirty is landing in theaters nationwide and the man charged with the look of the film's many sets is just a little thrilled. "I'm so excited for everyone to see it. I've been to so many screenings and everyone's been blown away," he said. "I'm dying to see what the entire public thinks of it."
Hindle knew the mountain to climb to make an iconic manhunt story come to life would be huge. The enormity of the task of creating 110 sets across three continents arrived in the form of Mark Boal's scrreenplay. "The toughest part was at the beginning reading a 148-page script that takes place over 11 years. It was a lot to take in," Hindle said.
Everything had to be created and built from scratch. "All those locales and sets… the learning curve alone on the intel of the script was a lot of work. We had to come up with the size and scale of everything and you've seen the movie," Hindle said. "There is so much that had to be built. Who was going to build it? What would it look like? Where can we build it and fly helicopters over it? It was a monster of an effort. And that was just the compound!"
After he figured out the erecting of a realistic compound (shown brilliantly in the Zero Dark Thirty trailer) that would serve as not only the site for bin Laden's demise, but also the final chapter of the film itself, his effort was simply commencing.
"Once that was figured out, we had the other 109 sets to go," Hindle said and laughed.  
Early in the film, we meet the Jessica Chastain character, Maya, who has been sent to Pakistan to work the bin Laden hunt from the U.S. Embassy in Islamabad. "It was important that it felt like a place where this 22-year-old girl would not want to be," Hindle said.
The production designer also wanted to have sets that the audience could subconsciously notice a stark contrast from where Maya worked and the landscape of where the people toiled who were giving her orders. "It's not that Pakistan isn't a beautiful country, it is, but I needed the CIA headquarters and her office in Pakistan to be bookends," he added.
"Langley's very white, sterile and cold and the other place is actually quite warm and rich, but just dirty and didn't have a lot of access to technology."
Technology, that too posed a problem as the film follows a manhunt that lasted over a decade. "We were always conscious of where we were in that decade. You have to have the feel of things slowly changing," Hindle said. "To me, that was so much fun."
When beginning the planning of the Zero Dark Thirty film, Hindle enjoyed a camaraderie of ideas with his helmer. "I'm really lucky. Kathryn's amazing. We had the exact same ideas on how to lay this out. It's not a documentary, but we needed it to be as authentic and as real as possible," Hindle said.
"It's really tricky to have everybody on board and we all had the same passion. It was a privilege for me. I don't know how many of those movies I'll get to work on like this."
That production design fostered by Hindle also reflects how Bigelow likes to shoot. "There are no crane shots. There are no cable shots. There's no wow factor about it," he said. We couldn't agree more, as stated in our Zero Dark Thirty review.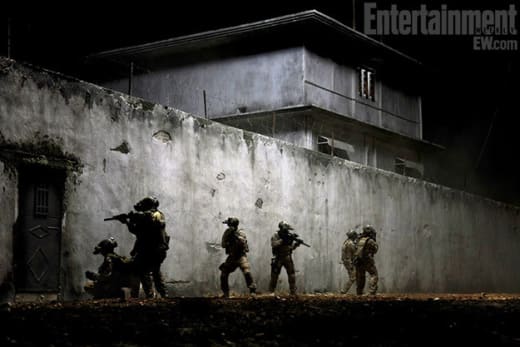 "My ultimate goal on it was achieved. The executive producer, when we first screened it, he said, 'It's like you did nothing.' That to me is the ultimate. There were 110 sets that didn't exist. Those military bases were just desert. To make them all feel all real and nobody is looking at production design or art direction -- it is priceless."
Hindle admits that naturalism is one of movie-making's most difficult tasks. "I wanted everything to be real. Those are real walls in the compound. Our cinematographer was a genius. I had him in some tiny spaces with four cameras," Hindle said and laughed. "That's why it works because it feels so real. You're there with them. There's nowhere to go."
One of the film's stars even let Hindle know this was a brilliant way to work. "Jason Clarke even said that he's so used to having to find the camera," Hindle recalled. "With this one, with four cameras shooting in tight spaces, that was not a problem."
The success, Hindle believes, of everything he and Bigelow accomplished, all starts on the page… exactly where the production designer's journey began. "The amount of detail in that script is spectacular," Hindle said. "I saw it five times, and I worked on it, and I still see something new in it. There's nothing I hate in this, and that's almost impossible [laughs] when making a movie."