Jessica Chastain has been getting a lot of Oscar buzz for her role in Kathryn Bigelow's latest triumph. As teased in the Zero Dark Thirty trailer, this film rivets. Our recent Oscar Watch column that predicted the nominees even anointed her the favorite to win Best Actress!
It surprised her what most resonated about the story that follows the decade-long effort to bring justice to those who perished on 9/11. "There was a woman at the center," Chastain said. "I was shocked by that. Then I became disappointed in myself that I was shocked by that!"
As the film opens in wide release January 11, Movie Fanatic sat down with the actress who portrays that CIA Agent at the center of the effort to find Osama bin Laden. In an exclusive video interview, she let us in on the magic of director Bigelow and what means the most to her about this film getting made.
"It's acknowledging the people who worked behind the scenes," Chastain said of Zero Dark Thirty. "This is the greatest manhunt in history. It's the story about the thousands of people involved. It's really inspiring."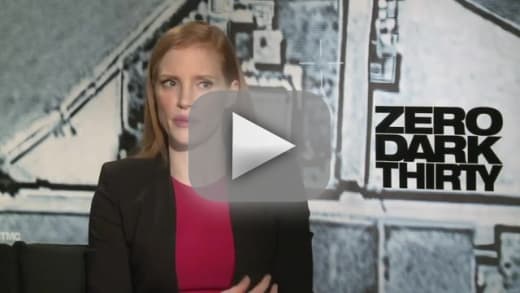 After witnessing over 250 films in 2012, Zero Dark Thirty landed atop our Top 10 Movies of 2012 and will likely result in a back-to-back Academy Award victory for Bigelow after her Best Picture and Best Director wins for The Hurt Locker.
Chastain told us what it is that is so masterful about the woman who is breaking down bigger barriers with each successive film. "I love, love, love Point Break," she said emphatically about one of Bigelow's first films. "I always put myself in situations where I'm going to learn a lot. And she's such a great captain."