Bruce Willis is back as John McClane, the role that made him a star in the Die Hard movies, in the fifth installment of the franchise: A Good Day to Die Hard. This time out, the hero leaves the country and heads to Russia where audiences get to meet his son Jack (Jai Courtney).
This is actually a great idea. The McClane character has always been a fish out of water and what better way to push the envelope of that concept than to send him to a foreign country where he doesn't speak the language and so much more. Toss in the fact that there is a dynamic at play where our hero is a father and he has gone to Russia for what he believes is a rescue mission to get his son out of trouble and the audience has a unique perspective on the buddy cop genre.
Seems Jack works for the CIA and he is in the middle of an international situation that threatens the safety of the entire world. One is reminded of one of those famous Die Hard 2: Die Harder quotes where John says, "How can the same thing happen again to the same guy?" But it works with this character and the audience is somewhat willing to give him a mile of leeway. Unfortunately in A Good Day to Die Hard, there isn't enough rope to make this one of the best of the series. Honestly, our A Good Day to Die Hard review finds it is far from the worst and sits right in the middle of the pack.
Willis and Courtney make a delightful father and son tandem. Their initial gruffness towards one another is an injection of bravado into a franchise that sorely needs it. As the pair wreak havoc on the streets and inside the finest hotels of Moscow, all in the name of making right what has been made wrong, Movie Fanatic was reminded why we first fell in love with Willis as McClane 25 years ago.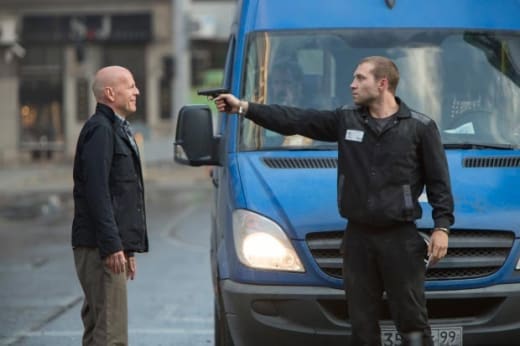 But, even with the astute direction of John Moore and the performances of Courtney and Willis, everyone involved in this film is undermined by a script that suffers from too many missed moments. When the first A Good Die to Die Hard trailer premiered, the premise had us shouting "gangbusters" at what was to come from the next chapter of menacing McClane. It doesn't quite live up to his hype... but is close.
There is still much to salute.
Seeing Willis back in action as McClane after his blockbuster turns in Red and Looper is a joy. It is definitely a character that he knows inside and out. With the addition of Courtney, there is an added element that pops off the screen. So too does much of the action, and let's be honest... that is what one wants from a Die Hard movie!