Writer-director Yaron Zilberman was looking to create a film with his first narrative feature that centered on the inner workings of family. "I had an intense relationship within my family and I wanted to address that," Zilberman said in our exclusive interview. After he completed his documentary, Watermark, he got together with co-writer Seth Grossman and found something interesting... a virtual one-two punch with A Late Quartet -- available now on Blu-Ray and DVD.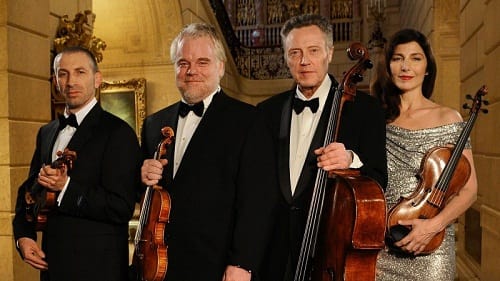 It seems that the same dynamic that is present in a family circle is also felt in the world of string quartets. "I've been following quartet music since my mid-teens -- both the music itself, but also I love to read about the dynamics between the various members of string quartets out there, how this music is being made with respect to their relationship and the process of having a string quartet mature," Zilberman said.
He was fascinated by what he learned about the great quartets over the centuries and even their deeply personal relationships with some of the greatest composers of all time.
"What I learned was that every great composer -- Beethoven and Brahms -- had their own string quartet that played their music. That's how they made changes, so to speak re-writes, and that the performances would have the very best dynamic between composer and musicians. The more I learned about it, I realized you can equate a family dynamic with the string quartet in a fresh way. From there, I started to define the characters of A Late Quartet."
As seen in the A Late Quartet trailer, Christopher Walken leads a string quartet that is celebrating its 25th year together... a milestone in the classical music world. Joining Walken in this acting quartet is Philip Seymour Hoffman, Catherine Keener and Mark Ivanir.
"I used 25 years in the movie, but in reality, many quartets have been together even longer. The great ones stay together for 40 years. But, I didn't want to use 40 because it was too extreme. I decided to use 25 years where a quartet becomes their best. It would also be where the father figure (Christopher Walken) would be thinking about stepping aside," Zilberman said.
The writer-director also modeled his cinematic string quartet after several real life entities, "in terms of their interpersonal relationship themes," he added. As seen in the film, there is the drama, and almost battle, between the artists occupying the first and second violin chair (Hoffman and Ivanir). No one wants to be second fiddle!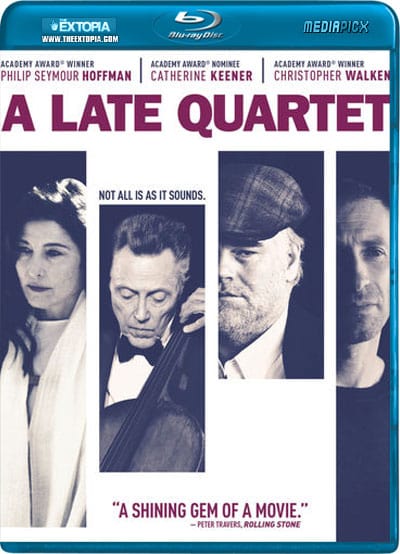 "Most string quartets deal with that. There's a famous string quartet, the Emerson String Quartet, they alternate between the first and second chair on any given night -- even switching off at intermission."
As the leader of this group that is facing his own health issues that prompt him to look into retiring, Walken gives, as we state in our A Late Quartet review, the performance of his career. "I was in awe seeing him with his process," Zilberman said and smiled. "First -- the basic -- the man is such an icon. He works so hard every day, seven days a week. Just seeing that was inspiring. The level of seriousness that he took every scene was already for me very impressive."
And much like the virtuosos he studied to come up with the characters in A Late Quartet, he found his lead actor took to his craft in similar fashion. "To be of such high level attention in every moment, it's inspiring. He has over 100 movies behind him. It was spectacular to see that," he added.
"Also, just to notice his level of alertness by what he did alone with his face. The choreography of his facial gestures were astounding. The idea of collaboration is important to him. He was so generous to me. This was my first narrative film. At the same time, he worked with me in a way that brought the performance to a whole new level."