The famous studio Warner Bros. is celebrating its 90th anniversary in the most spectacular fashion as it packages some of its best work in package collections. Fresh off the Best of Warner Bros. Best Pictures Collection, Movie Fanatic received a set with 20 of the studio's most iconic song and dance works.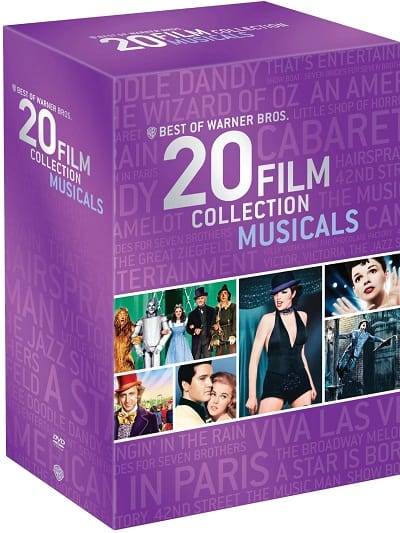 After scouring the 20 films, the question emerges for any musical movie fanatic: Could you ever want anything more? From The Wizard of Oz through Hairspray, the series is vast, varied and iconic.
The thing that most strikes Movie Fanatic is that there are numerous musicals here that not only define the genre, but have been given credit with pushing the envelope and bringing the movie musical to new heights.
Some set the standard, such as An American in Paris... one of Movie Fanatic's Top 100 of All-Time. Others served as virtual revolutions in the musical world. The Jazz Singer was the first talking motion picture and ushered in the cinematic era we still enjoy. Then there are films such as Viva Las Vegas where popular culture and the musical genre merged to create lightning in a bottle by bringing Elvis Presley to the big screen.
The most extraordinary thing about all these fine films are the actual musical numbers, some still stand as the best of the medium. Check out the video below of Gene Kelly belting out Singin' in the Rain and one can almost close our eyes and still see Kelly's magic moves because they have permeated our popular conscience.
And who could forget Liza Minnelli with her role of a lifetime delivering the iconic Come to the Cabaret from Cabaret!
Then there is the culture-defining excellence of Show Boat, Willy Wonka and the Chocolate Factory with Gene Wilder in his iconic role, Julie Andrews' most challenging part in Victor/Victoria and the musical about a man-eating plant that still resonates today, Little Shop of Horrors.
Even more legendary films in the set include Seven Brides for Seven Brothers, 42nd Street, Yankee Doodle Dandy, A Star is Born, The Music Man and Camelot.
The question with this set is not whether to purchase... it is how soon?!