Breaking Dawn Part 2 DVD Review: Edward & Bella End It
by Joel D Amos at . Updated at . Comments
The DVD and Blu-Ray for Breaking Dawn Part 2 has landed and the final chapter of the Twilight Saga concludes in a quite satisfying manner. It is the best of the series and fans will absolutely want to add the flick to their Edward and Bella home video bounty.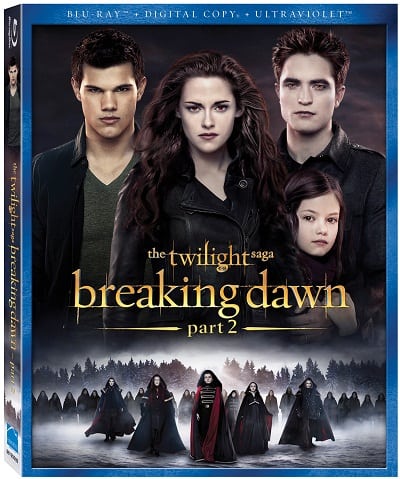 As Stephenie Meyer oversaw the closing of her series, the biggest news to come out of her final film in the vampire and the girl who loves him world was that twist of the ending. As we reported in our Breaking Dawn Part 2 review, it surprisingly works!
For those of you who haven't seen or heard of it, that's all we'll say on the subject. But, that final stroke of creativity spoke to Movie Fanatic and showed why, in that moment, millions and millions adore the series.
The team behind the franchise has compiled a DVD and Blu-Ray that should satisfy every single fan in ways they only dreamed of. The seven-part documentary series that takes viewers behind the scenes of the final film is astounding. From director Bill Condon to the entire cast -- with special and heartwarming input by its stars Taylor Lautner, Kristen Stewart and Robert Pattinson -- the insight of making these final two movies back-to-back is captured impeccably.
Check out a tease of a behind-the-scenes feature:
And the man who brought those final two chapters, Condon, provides an especially insightful commentary track for those who want to delve even further into the making of one of the most popular franchises in Hollywood history.
Recalling the days when it was actually a competition and the Twilight world was split between Team Jacob and Team Edward, there's a true treat of a bonus feature. The "Jump to Edward" or "Jump to Jacob" feature allows you to solely watch the film with that character's scenes. That's a new one in the world of home video... and fitting for this franchise!