Cabaret redefined the movie musical when it debuted 40 years ago. Broadway legend Bob Fosse scored an Oscar for Best Director for his work helming the film that showed a whole new side of its star, Liza Minnelli. When the film arrived in 1973, it took the stage musical and brought it to life in a manner that never forgot its theatrical beginnings. Now, for the first time ever, Cabaret is available on Blu-Ray in an impressive 40th Anniversary Blu-Ray Book that has to be a must-own for any fan of the genre, and movie fanatic for that matter.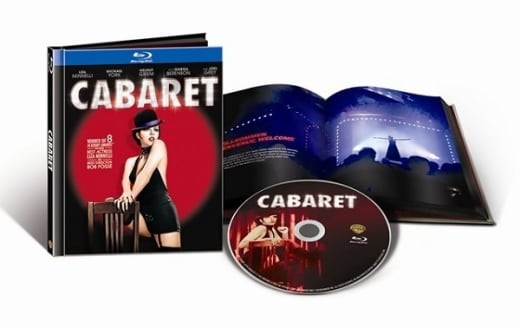 It is just another example of the great Blu-Rays emerging out of Warner Bros. as they celebrate their 90th anniversary. Our Warner Bros. Best Pictures Blu-Ray review and The Jazz Singer Blu-Ray book review show this is just the tip of the iceberg of cinematic excellence from the studio.
The film takes place in 1931 Germany, before World War II truly became international news, and showcases a Berlin where people head to the Cabaret to party their troubles away. There, we meet Master of Ceremonies (Joel Grey), who introduces his establishment's talent with a flair for the outlandish. Grey would earn an Academy Award for Best Supporting Actor, joining his co-star Minnelli who scored a Best Actress trophy for her part as the iconic Sally Bowles.
As teased by these Cabaret quotes, the film is both entertaining, enthralling and thought provoking. And through the 40-page booklet that is included in this new Blu-Ray package, fans can get never-before-seen access to the Fosse world that is still as powerful today as it was four decades ago.
In 1995, the film was selected for preservation as a national treasure by the Library of Congress and now you can own it on Blu-Ray -- an American institution with the best sight and sound the film has ever been presented in. Want a little insight into the musical mastery that is Cabaret? Check out this video of Minnelli singing Come to the Cabaret.
The extras on the Blu-Ray package astound... and there are 28 of them! They're all spectacular, but our favorites are The Recreation of an Era, Sally's Look Kit Klub Memory Gallery: Liza Minnelli Remembers, Screening Blues and Screening Hues -- with the last two featuring Fred Ebb recalling his time with the legendary film.