Celeste and Jesse Forever DVD Review: Rashida Jones' Rom-Com Reality
by Joel D Amos at . Comments
Celeste and Jesse Forever is about as truthful of a modern love story as Movie Fanatic has seen in some time. Rashida Jones and Andy Samberg star as the titular characters that, as the movie begins, are happily divorced after years of marital bliss that began in college. The film, co-written by Jones, is now out on DVD and Blu-Ray and if it's one you missed in the theaters, run, don't walk... and check out Celeste and Jesse Forever.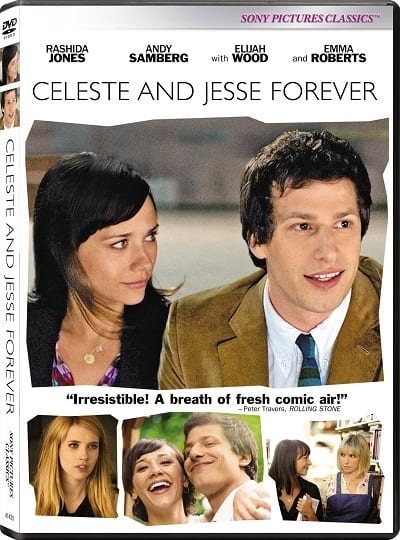 Samberg shows surprising dramatic range (and he is also funny) as the partner in this relationship who, according to Jones' Celeste, has not been living up to his potential. This weighs on the career-minded woman and ends up causing the strife that splits them apart. As we stated in our Celeste and Jesse Forever review, the pair is impeccably cast and together craft a romance, which is also hilarious in parts, that is as unique as the genre can produce.
This was one of the first films to arrive in theaters after Samberg left SNL and we were so impressed with his nuanced performance. This guy is talented and is likely to have a career modeled after Steve Carell and less like Adam Sandler. He and Jones have irresistible chemistry, which is all the more reason that Celeste and Jesse Forever is such a surprising piece of work. As the audience pulls for the two to work out their issues, the reality of what would happen in real life rears its head and it is because of that grounded in reality mentality that the film is a true gem.
Among the DVD extras that are the most fascinating are the commentary tracks by Jones and Samberg. The viewer gets a front row seat to how and why this chemistry works so well. Then, there's the added bonus to hear the commentary track of Jones, wearing her screenwriter hat, with her fellow filmmakers Will McCormack and Lee Toland Krieger.
The deleted scenes are a nice touch, especially since we get more of the Jones and Samberg magic. Also, the getting to be stale in the DVD format "making of documentary" on this flick is as original as the film itself.