Chasing Mavericks DVD Review: Gerard Butler Catches a Wave
by Joel D Amos at . Updated at . Comments
The true story that is sure to inspire, Chasing Mavericks, lands on DVD and Blu-Ray and brings to life the tale of surfing phenom Jay Moriarity and the veteran surfer -- Frosty Hesson -- who helped him become a legend. Hesson is brought to life by Gerard Butler, while Moriarity comes alive onscreen thanks to newcomer Jonny Wesson.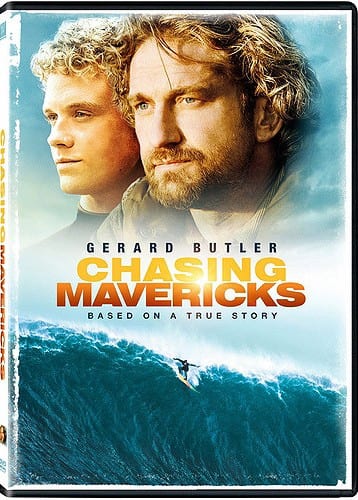 The title of the film comes from the area north of Santa Cruz where surfers are challenged like in no other place. The massive waves, called Mavericks, can kill even the most seasoned surfer. So, when Moriarity -- as a teenager -- decides that he's going to tackle the iconic waves, Hesson feels compelled to coach him. At the least, Hesson can talk Moriarity out of it, and at the most, help him make history.
Surfing fans know what happens, yet it still is compelling in that the film puts what these gutsy surfers do in perspective. When Moriarity tackled the Mavericks, it was an El Nino season and they were even higher than normal. Despite that challenge, the youngster still went out there, determined to meet his fate. The rest was history, but how we get there is the crux of the film, teased in this Chasing Mavericks trailer.
As we stated in our Chasing Mavericks review when the film hit theaters, Butler and Wesson are terrific together. Plus, we cannot think of any film in history that captured the sights and sounds of surfing as Chasing Mavericks does. On DVD and Blu-Ray, the visuals and sound effects are chilling.
Among the extras that are worth their weight in gold is Surf City, a look at the region where the massive waves hit. And we particularly enjoyed the Live Like Jay featurette that takes audiences further into the world of the surfing icon. Fans of surfing, or even those curious about the sport, will appreciate the documentary Surfer Zen that clues viewers into why people who surf are so passionate about the lifestyle.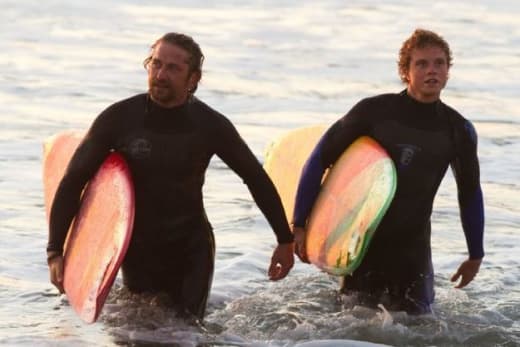 As we mentioned, the surfing scenes are uncanny and we'd be hard pressed to find a film that captures the mammoth that is the Mavericks. The Shooting Waves feature takes you inside the filming and pulls back the curtain on the magic of surfing movie making.
There are also several deleted scenes that are interesting in hindsight after watching the film. In particular, the Frosty and Jay Paddle gets to the heart of these two characters and why this father-and-son type bond is so resonant.