Bruce Willis and Die Hard marked their 25th anniversary with the unveiling of a new mural on the 20th Century Fox lot and Movie Fanatic was there. It is an esteemed honor as the studio only has a handful of murals celebrating their decades of movie magic including ones for The Sound of Music and Star Wars.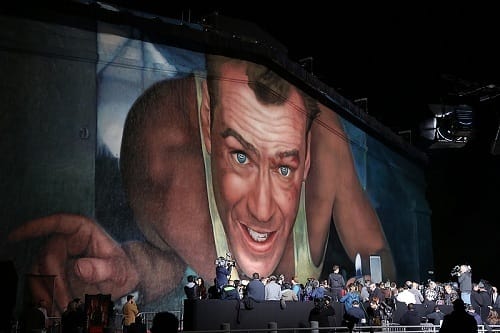 Willis was on hand and spoke to the crowd about how honored he was to be in such elite company. As the fifth movie in the franchise arrives, A Good Day to Die Hard, it was a perfect time to look back at the franchise's impact on popular culture.
Once Willis was done speaking, he was handed a "detonation" switch as the 20th Century Fox theme music played. As soon as the final notes sounded, the superstar flipped the switch and a slew of fireworks went off as the curtain fell and revealed the new Fox mural.
The painting is from the iconic scene in the first Die Hard when Willis' John McClane is making his way through the air vents of Nakatomi Plaza and utters one of the most famous Die Hard quotes, "Sure, come out to the coast... have a few laughs."
Check out our video summation of the entire event, including a quick chat with Willis where he puts all these accolades in context, as well as previews the latest installment in the Die Hard world -- teased in this latest A Good Day to Die Hard trailer. And you really want to be impressed? Don't miss the time-lapse video of how the mural itself was made!
And stay with Movie Fanatic all next week as we publish our exclusive interviews with the latest film's cast.