Hailee Steinfeld and Asa Butterfield are super excited about their mushy-looking futuristic cafeteria lunch in this new still from Ender's Game: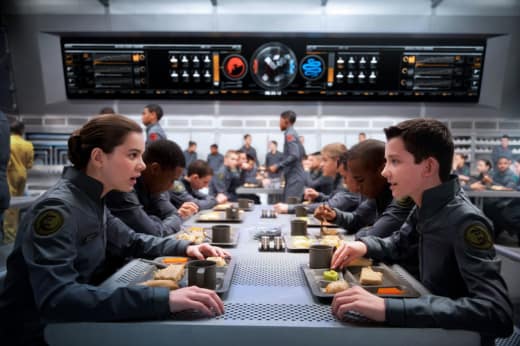 Butterfield stars as Ender, a young prodigy who is sent to special military training with other children in preparation for an alien invasion. The film is based on the sci-fi novel by Orson Scott Card.
Harrison Ford (who may be returning as Han Solo in Star Wars Episode VII) also stars as the trainer Colonel Graff, with Ben Kingsley (Iron Man 3) as Mazer Rackham, a legendary Commander who saved the world from a previous attack. Abigail Breslin, Viola Davis (Beautiful Creatures), Moises Arias, Aramas Knight, Jimmy Pinchak, and Brandon Soo Hoo also star.
Ender's Game is set for a November 1 release date.