Flight has arrived on DVD and Blu-Ray and showcases one of the best performances of Denzel Washington's career. And that is saying something! It also is the first live action film directed by Robert Zemeckis in years and features an Oscar-nominated screenplay by John Gatins.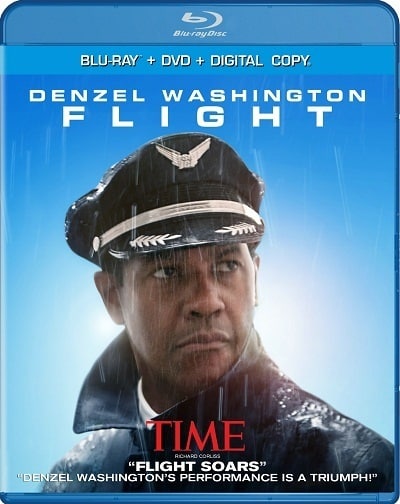 The film's lead actor scored one of the 2013 Academy Award nominations for his portrayal of an alcoholic pilot who manages to safely land a crashing plane. The film raises some serious morality issues and will have you discussing what's right and wrong, and gray for that matter.
Washington is Whip Whitaker, a man who the media is hailing as a hero after he managed to land a plan spiraling out of control and only losing a few lives and saving over one hundred. A toxicologically screen, taken at the hospital after an unconscious Whitaker was brought in after the crash, reveals that he had cocaine and alcohol in his system at the time of the crash. Suddenly, our hero's halo is not looking so good.
And thus begins our moral dilemma. As stated in our theatrical Flight review, it's truly impossible not to pull for Whitaker to escape prosecution. He is a hero and there is no other pilot in the world that could have landed that plane successfully. But, does that matter when the pilot was flying illegally? Now discuss... !
Not to be outdone by their leading man, the supporting cast rivets. John Goodman kills it as Whip's drug dealing best friend, Bruce Greenwood is subtle and sincere as a pilot union rep and Don Cheadle's lawyer character goes tit for tat with Washington in every scene they share. And in the movie's penultimate scene, Oscar nominee Melissa Leo rivets as an FAA investigator.
Movie Fanatic received the Blu-Ray/DVD combo pack and the features are few, but fabulous. Particularly mind-blowing is the featurette Anatomy of a Plane Crash. The scene where Washington saves the day is one of the most astounding cinematic plane crashes ever captured on celluloid. Zemeckis takes audiences through the process that makes magic out of a horrifying event. It is equally jaw-dropping as it is harrowing to witness. Seeing how it was all put together is a marvel of movie magic.
Two featurettes are also solid that delve into the creative process behind the film. Origins of Flight and The Making of Flight are both welcome additions to the Blu-Ray release. Each is a priceless addition to the home video set. And for those who are fans of Washington and Zemeckis, don't miss the Q&A Highlights feature.