Dr. Maya Hansen is gonna have a big ol' scar across her forehead in Iron Man 3, which turns out to be an origin story for the new villain "Scarforehead." Maybe I have that wrong.
Either way, check out this new still of Dr. Maya Hansen, played by Rebecca Hall: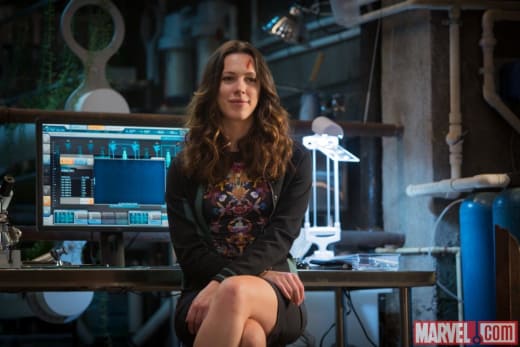 Robert Downey, Jr. stars as Tony Stark in the third film in the Marvel series. This time, he seeks the person responsible for attacking his private world.
Gwyneth Paltrow, Don Cheadle, Guy Pearce, James Badge Dale (World War Z), Jon Favreau, and Ben Kingsley also star.
Iron Man 3 hits theaters May 3. Watch the Iron Man 3 Super Bowl teaser, and catch the full new TV spot during Sunday's game.