Following yesterday's Iron Man 3 Superbowl trailer, we've now got four new stills from the film, including one of Don Cheadle in the Iron Patriot armor: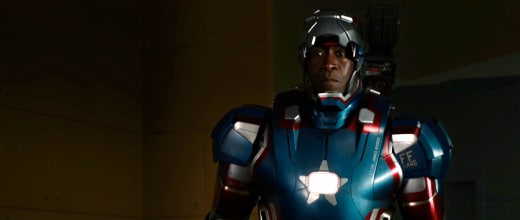 Robert Downey, Jr. stars as Tony Stark in the third film of the comic book franchise. Gwyneth Paltrow returns as Pepper Potts, with Don Cheadle as James Rhodes.
Rebecca Hall, James Badge Dale, Guy Pearce (Lawless), Jon Favreau, and Ben Kingsley also star. Shane Black directs the film, which will premiere May 3.