Pacific Rim is the most anticipated monsters-vs.-robots movie since that adaptation of the young adult about a high school girl who has to choose between the hunky monster or the sullen, dreamy robot.
Check out a new batch of stills from Pacific Rim: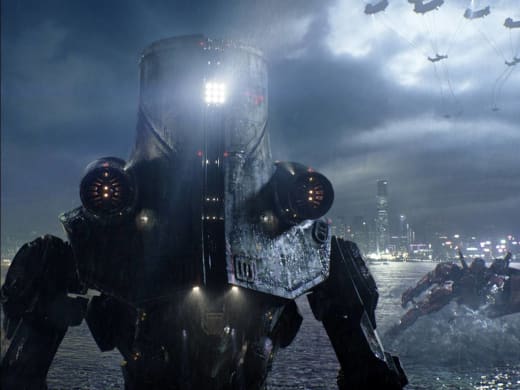 Charlie Hunnam stars as Raleigh Antrobus, a former pilot of monster-fighting robots called Jaegers. When the monsters return, Raleigh comes out of retirement to join a trainee played by Rinko Kikuchi to pilot an old Jaeger and save mankind.
Idris Elba (Thor: The Dark World), Charlie Day (who had some hilarious Horrible Bosses quotes), Burn Gorman, Robert Kazinsky, Max Martini, and Ron Perlman also star.
Guillermo Del Toro directs the film, which will hit theaters July 12. Watch the Pacific Rim trailer for another look.