The Peter Pan Blu-Ray is something to celebrate. Disney has opened its vault and brought hi-def picture and sound to a movie that has never seen it before. And what a delight it is to witness the passion Walt Disney had for the character brought to life in a manner that would make the Mouse House founder proud with the release of the Blu-Ray.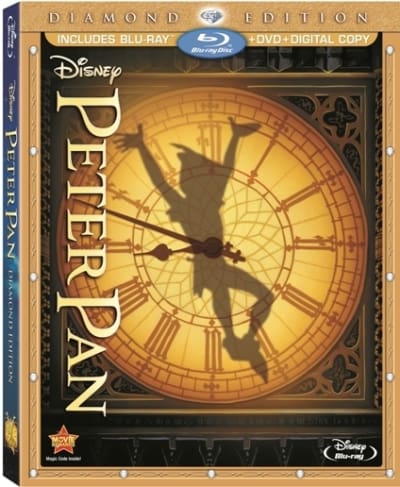 This is a must own for any Disney fan, and almost as important as any recent release in their library. Peter Pan was particularly close to Disney's heart and in fact, he wanted to make the movie his second after Snow White, but had to wait 10 years for technology in animation to get where it needed to be in order to capture the story as he saw it.
In a delightful bonus feature hosted by Walt's daughter Daisy, she reports how the story of Peter Pan spoke to her father and why there may be no other film produced during his tenure that was more important to him.
The Peter Pan Blu-Ray trailer teases the restoration of the film, but nothing does it justice like witnessing it in its true glory on a Blu-Ray player with a hi-def TV. The story of the boy who refused to grow up and the adventures he took a group of children on has resonated for decades and with the arrival on Blu-Ray, a whole new generation can be added to the legions who love Peter Pan.
Never one to short an audience with never-before-seen features on its vault Blu-Ray releases, Disney presents several never released songs from Peter Pan as well as the short film Growing Up with Nine Old Men. The film is also the first in the Disney canon that was directed by all nine of the helmers that Walt turned to to direct his movies. The proof is in the pudding, especially on this Blu-Ray, as the flick has to rank among the studio's best of all-time.
Did we mention there are also brand new deleted scenes and an alternative ending? How much more could Disney give us with the Peter Pan Blu-Ray? The film's release is an embarrassment of riches that we will delightfully treasure!