Safe Haven star Josh Duhamel has done it all, but yet he feels he is still getting started. He started as a popular regular on a soap opera smash, All My Children, starred in a primetime TV hit, Las Vegas, and has appeared in big screen blockbusters such as the Transformers movies. Duhamel has also been quite careful in planning out his career by also starring in films that show that he cannot be drawn and quartered into one stereotype.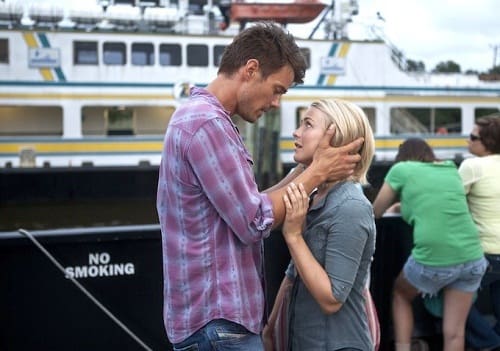 That is why he was at first reluctant to accept the role of Alex in the latest Nicholas Sparks bestseller-to-screen effort, Save Haven. "In the beginning, it was something I didn't want to do. I feel like I've done it before," Duhamel told Movie Fanatic exclusively.
The actor felt that on the outside, there was not too much interesting about the guy. "He's too perfect. Then the script came back a little while later, and it was better and I knew Lasse (Hallstrom, director) was on board and knew that Relativity Media do these movies well and I trusted them," he stated.
Duhamel found everyone involved malleable to his thoughts on not only the character of Alex, but also overall ideas about the film itself. "I told them my issues that I wanted to mess this guy up. He's too good. We worked on that. He's still good in the movie, he has to be to pull it off, but he also has flaws. He doesn't always do the right thing. He just figures it out as he goes, like any guy would trying to raise two kids on his own," Duhamel said.
"That became interesting to me. It became more and more exciting the more I got to work with Lasse and he would listen to my ideas. A lot of the ideas I had on the day of filming, ended up in the movie. I love working with people who feel that if it's a good idea, it doesn't matter where it comes from -- it's good for the movie. A lot of times, that doesn't happen."
Having Hallstrom serve as director was another plus for the actor. The Oscar nominee has crafted incredible films from Chocolat to The Cider House Rules. "He's very patient, tasteful and has absolutely no ego," Duhamel said. "I think he's an artist and I had a really good time working with him."
And then there's the immediate spark he felt with his co-star, Julianne Hough (Footloose). "Julianne is obviously a beautiful girl, but what makes her shine is there's a sparkle about the girl. There's a lot of beautiful girls in this town. There's something really accessible about her, really relatable and what you see is what you get with her," Duhamel said.
"We didn't have to force anything. Again, Lasse was great with that. 'Less is more,' he'd say. When you have a girl who is so open, it makes it easy. That's why I was excited when they cast her."
Being part of a Nicholas Sparks page-to-screen effort is also something Duhamel is proud of achieving. But, he stresses that's not necessarily what he, Hough and Hallstrom sought to achieve... as evidenced by the Safe Haven trailer that shows off a new side of Sparks.
"I feel really grateful and I'm a little surprised that they wanted me. I saw the guys that were in these movies, to think that they thought of me, is pretty flattering," he said of the author that gave us movies from The Notebook to Dear John. "At the same time, you want to put your own stamp on it. This story was different enough with the whole thriller element. The story was so different, we didn't think about this being a Nicholas Sparks movie, we just shot it."
Don't be surprised if Duhamel continues to keep his audience guessing. "That's ultimately what you want to do. I'm always trying to break my way out of some box that I've been put in. It started on the soap opera in the late 1990s and then I had to bust out of that to prove that I could do primetime TV. Then it became, 'He's a TV guy, can he do movies?' And then it was, 'He's just romantic comedies,'" Duhamel admitted.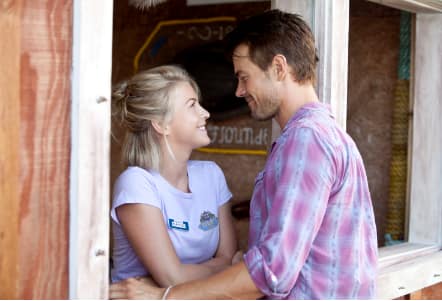 "You're always trying to play against type, but at the same time you take what you get and make the most out of the opportunities. For me, this is what I love about getting to do this. I truly love what I do. It's a matter of just saying no and hoping that you get an opportunity to do something different. That's what happened with Safe Haven. I initially felt it was too much like the other stuff that I've done, but when you get a chance to work with a director like that, you don't want to pass that up," Duhamel said.
It's a constant balancing act of possibilities of a project and the potential of a project. "I just finished Scenic Route, which we got into South by Southwest, which I really love. I got to play a crazy guy with a Mohawk," he said. "Those are the kind of things that I like to do!"