Star Wars Episode VII Plot Could Center on Children of Luke, Leia, and Han: Original Cast to Return
by Micah J Gordon at . Comments
With Star Wars Episode VII still a ways away, most of what we have to go on so far revolving plot and characters is based on conjecture. That said, Showbiz 411 is reporting a rumor that original cast members Mark Hamill, Carrie Fisher, and Harrison Ford will all be returning for the first film in the sequel series.
The rumor states that the story will center around the children of the three original protagonists, taking place some time after Return of the Jedi. A previous rumor also claims that the main protagonist will be female.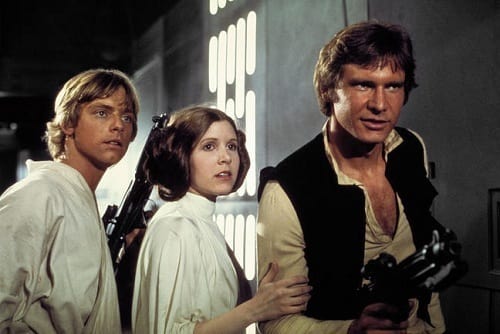 Michael Arndt is currently writing the script, with J.J. Abrams (Star Trek Into Darkness) set to direct. We likely won't have any official confirmation of plot details at least until the script is finished.
In addition to the rumored involvement of all three original actors, the Star Wars franchise will be getting stand-alone movies about Han Solo and Boba Fett. The question still remains: Who will play young Han Solo? And who should play the children of Luke, Leia and Han? Give us your thoughts in the comments section!