When The Perks of Being a Wallflower premiered at the Toronto Film Festival, Movie Fanatic was there and could not say enough about this cinematic marvel. Now it is out on DVD and Blu-Ray and Movie Fanatic puts this at the top of the must-see list of the year!
Stephen Chbosky wrote the screenplay and made his directorial debut on the film based on his bestselling book about a group of high school friends in 1990's Pittsburgh. It is, by far, one of the best high school-set movies to arrive since The Breakfast Club -- as we stated in our The Perks of Being a Wallflower review.
The story centers on Charlie (Logan Lerman), a freshman who is grappling with the death of his close friend as he enters high school. He finds it difficult navigating the seemingly overwhelming world where everyone seems so... well, grown up. Charlie meets Sam (Emma Watson) and her BFF-stepbrother Patrick (Ezra Miller) and the two become not only mentors to the freshman, but also his dearest of friends.
As teased in the first The Perks of Being a Wallflower trailer, Chbosky was an impeccable choice to not only write, but direct the movie based on his book. The man has the most uncanny knack for capturing what it is like to live during that period between childhood and adulthood. So much is expected of us, but we still really know very little. Toss in the added stresses of depression (as is the case with Charlie) and being gay in a high school world that could be less than inviting (Patrick), and our story holds even more weight.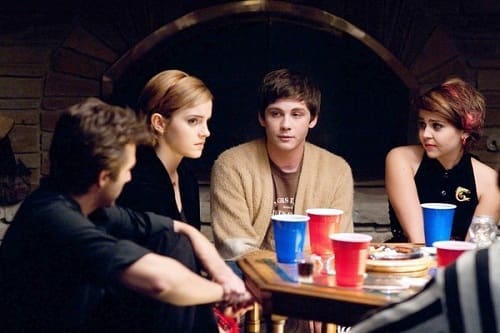 This is clearly a Chobsky story... through and through. Considering that fact, his audio commentary on the DVD and Blu-Ray is simply priceless. We garnered so much from our Stephen Chbosky exclusive interview, but there is so much more to bringing this heartfelt story to life that he delves into with his commentary track.
What's also a blast is hearing the commentary track by Chbosky with his cast joining him, including Watson, Lerman and Miller. This group must have had loads of fun making this movie on location in Pittsburgh! The Best Summer Ever featurette takes viewers inside that filming process and there are deleted scenes as well... which interestingly enough hold much more weight than any deleted scenes we've seen recently -- largely due to Chbosky's commentary on them.