Releasing on Blu-Ray and DVD February 12, discover the captivating and exhilarating The Sessions starring Academy Award winner Helen Hunt, with Academy Award nominees John Hawkes and William H. Macy in this triumphant true story about love, sex, desire... and making every breath count.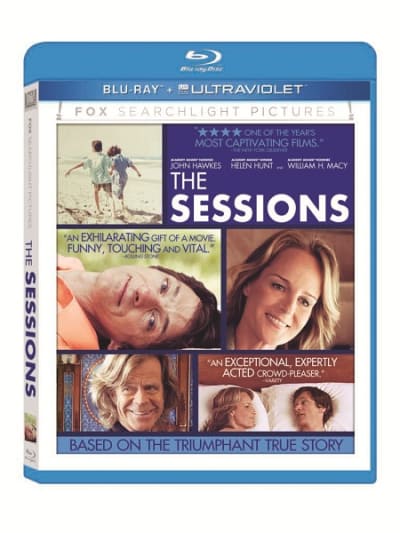 A 'must own' for film fans, whether watching for the first time or reliving this incredible tale, The Sessions Blu-ray comes with insightful bonus features including previously unseen footage, in-depth interviews and a look at the women who knew and loved Mark O'Brien.
This is one powerful story, as we stated in our The Sessions review.
Paralyzed and confined to an iron lung since childhood, poet-journalist Mark O'Brien (Hawkes) has overcome adversity time and time again. But now, at age 38, he faces his toughest challenge yet: losing his virginity. With the help of a beautiful therapist (Hunt), a friend (Macy), and his own unbridled sense of optimism and humor, O'Brien embarks on an extraordinary personal journey to discover the wondrous pleasures that make life worth living.
Special Features:
•    Theatrical Feature Blu-ray
•    John Hawkes becomes Mark O Brien
•    Helen Hunt as the Sex Surrogate
•    The Women Who Loved Mark O Brien
Blu-ray Exclusive Features
•    Deleted Scenes
•    Writer/Director Ben Lewin Finds Inspiration
•    A Session with the Cast
•    Ultraviolet Copy
For a chance to win a copy of The Sessions, simply answer the question in our comments section below. We will select two winners on February 19.
In The Sessions, William H Macy portrays a:
a)    Poet
b)    Priest
c)    Journalist

Follow Twentieth Century Fox Home Entertainment on Twitter @FoxHomeEnt and don't miss The Sessions trailer.