The Top Gun 3D Blu-Ray arrived on Movie Fanatic's doorstep and we could not have been more excited. Surprisingly, the film has aged quite well since its release in the late 1980s. After witnessing the film in stunning Blu-Ray, it was immediately clear that the film did Take My Breath Away.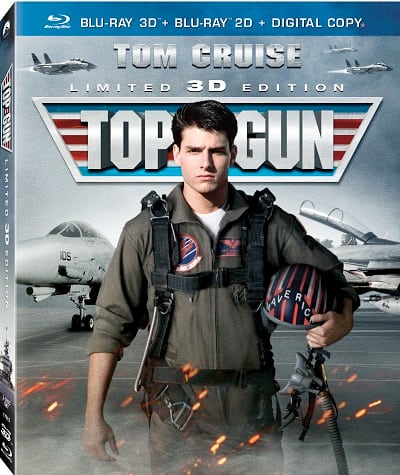 For those who missed the theatrical re-release of Top Gun in 3D, the home video release of it is a terrific treat. Tom Cruise became a blockbuster star in this film and witnessing it again reminds us why it has resonated for decades. Even though it is set in the era of Reagan fighting communists, it is still a tale that feels timeless.
One does not have to have a 3D television to enjoy the Top Gun 3D combo pack. Paramount also is releasing the 2D version of the film as part of the package. Since the conversion of the film to three dimensions was overseen by the film's director, Tony Scott, and was one of his last efforts before he perished, at some point... you must fill your need for speed and upgrade to 3D TV to appreciate a visionary director's final pieces of work.
The film is remastered from its original print and those action scenes have never looked so good as the Top Gun quotes have also never sounded so good. Of particular note is the sonic boom of fighter jets that has been brought to a new level of excellence by those charged with bringing the movie into the 21st century.
Given that the commentary track by Scott is one of the final times we'll hear his voice extolling the power of his work, that bonus feature on the Blu-Ray is one to treasure. To hear his thoughts, along with producer Jerry Bruckheimer, is also bittersweet as Hollywood lost a true master with Scott's passing. Another star of the film talked to us recently, check out our Tom Skerritt exclusive Top Gun interview.
Also a powerhouse is the six-part documentary series on the making of Top Gun. How could a viewer's interest in the real guys who fly these jets after witnessing the blockbuster not be peaked? Thankfully, there's a featurette called Best of the Best: Inside the Real Top Gun that illustrates the true bravery of our greatest fighter pilots.
And given that Top Gun was one of the first films to focus so much of its effort on creating a killer soundtrack, the inclusion of the music videos for Kenny Loggins' Danger Zone, Berlin's Take My Breath Away and Heaven in Your Eyes by Loverboy on this set is one terrific bonus.
Finally, the Cruise interview features allow the star to use the perspective of time to reflect on the experience that was Top Gun. To say he still has a fond place in his heart for the actioner is a gross understatement! Then again, so do we.