As Top Gun arrives on 3D Blu-Ray (and 2D), one of the film's stars phoned Movie Fanatic for an exclusive interview to reflect on what made the Tom Cruise movie such a blockbuster. The film produced more than just Top Gun quotes, it made Cruise a superstar and he became a Hollywood icon in the process.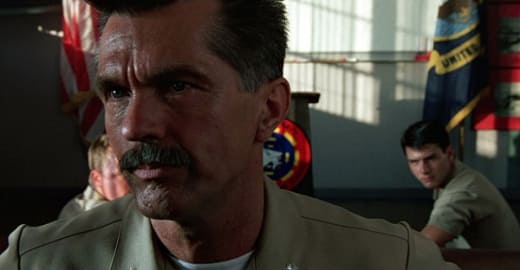 When a film like Skerritt's arrives in a new format, here in 3D and on Blu-Ray -- check out its Top Gun 3D trailer -- it gives the actors involved in the filmmaking a chance to reflect. Skerritt admitted that he is still being saluted by fans for his work on the film.
"I am 27 years away from the high of making it. But, I'm still experiencing audience rewards," Skerritt said. Top Gun shows no signs of fading from our collective memory as it still strikes a chord with first-time viewers who become instant fans.
"Generations have gone and seen that film multiple times. It's one of those films that always is embraced by younger generations in a way that I have not experienced in any other film."
It is often said that those involved in filming a movie have no idea how it will fare with audiences, much less how the film will even turn out. Having worked on many classics himself, including Alien, Skerritt said Top Gun was different.
"I've been in some other films prior to that where I could tell. But, in the middle of filming Top Gun, I knew that this was going to be something special," he admitted. "I thought it had a chance of being a classic, but I also felt that way about MASH, Turning Point and Alien. But this one, when I read it, and I knew Tony Scott was going to be directing it, that I wanted to do that film. Fortunately I was able to do it and the rest was history."
Top Gun is heralded as one of the first of the Bruckheimer hits. But, the film was made when he was partners with the late, great producer Don Simpson. "He was the one I talked to in the first place about Top Gun," Skerritt said of Simpson. As Simpson would soon pass away, the actor was witness to the birth of a blockbuster maker in Bruckheimer.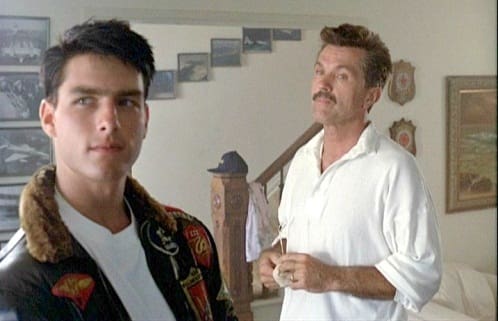 "Once you meet the producers, they rarely come on the set. Bruckheimer was there more than Don Simpson. But Jerry, at that time, was fairly quiet and stayed in the background. Don did the talking! Once he was gone, Jerry surfaced as being very much a real power between the two of them. Jerry grew to the occasion."
The other "birthing" that happened when Top Gun arrived on screens was that it made a superstar out of Cruise. "He had some really intense focus," Skerritt recalled. "He has a great deal of integrity."
Looking back on his varied career, Skerritt said he is proud of what he has done, even if sometimes he felt there were roles he had to take. "You have a family, and you have to make a living, so you make some bad movies too. You get one of those and you wonder, 'What am I doing here?'" Skerritt said. Clearly, Top Gun is not one of them and more indicative of the great, still resonant work Skerritt has given us over the decades.
"I'm unusually fortunate, get a variety of films and have frankly a preference about what I do because I never wanted to be categorized."