We've got a new photo from the set of Anchorman: The Legend Continues and it leads us to believe that our man Ron Burgundy has a son. Can you imagine the hilarity that could ensue from that? Given the fact we know that Christina Applegate will return for Anchorman 2, and the little nugget of information director Adam McKay once said about a "custody battle," we think the kid in the photo is perhaps Ron, Jr.!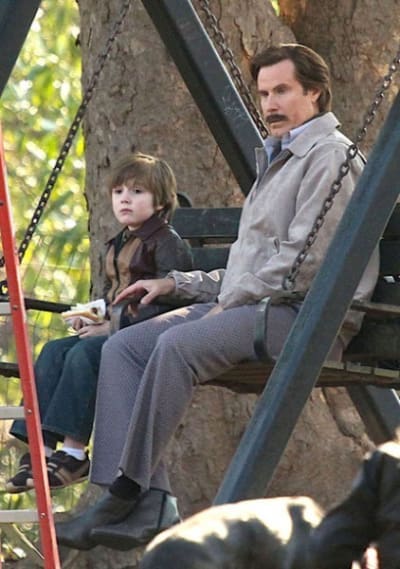 The cast for Anchorman 2 is getting quite crowded, what with Harrison Ford joining and James Marsden cast as a rival anchor. Early rumors have this next chapter in the Ron Burgundy saga following the challenges of the arrival of cable news and its effect on local news shows, such as the one Ron anchors.
Now, given that the "custody battle" quote is out there, we're guessing he and Veronica Corningstone (Applegate) are no longer together... which is sad -- or has the making of hilarity!