Cirque du Soleil Worlds Away: Erica Linz Takes Us Under the Big Top
by Joel D Amos at . Comments
Cirque du Soleil has hit the big screen with the release of Cirque du Soleil: Worlds Away. Erica Linz stars as Mia in the production and phoned Movie Fanatic for an exclusive chat about the DVD/Blu-ray release of the film. Linz became part of the Cirque world in 2001 and her greatest joy in the Worlds Away movie is having a wider audience than ever before witness the group's majesty.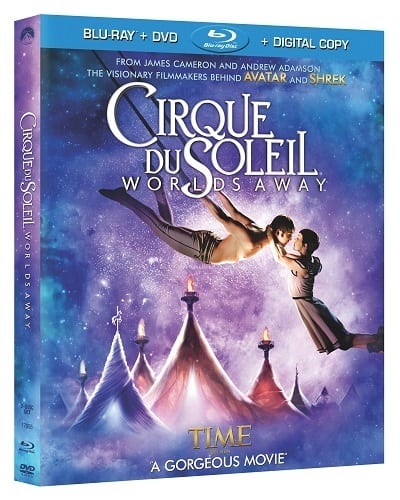 Linz's specialty is Aerial Straps and she has appeared with the troupe's iconic shows, Mystere and KA. The actress-aerial wonder is the center of the film, teased in this Cirque du Soleil: Worlds Away trailer, that lands on home video today for the entire world to finally go behind the curtain of the magic that is Cirque du Soleil.
Movie Fanatic: What were your first impressions when you saw yourself on the big screen?
Erica Linz: I think that anytime somebody sees themselves on screen, you're first impression is just to judge yourself. And it doesn't allow you to kind of be able to just watch the whole thing. But I was shocked to find that the second time I watched it, I was able to watch the film really as a spectator and get kind of lost in the crazy world of Cirque again. Even though the world of Cirque has become so familiar to me over the last 10 years, I was surprised to find it kind of renewed and magical.
Movie Fanatic: When you started with Cirque, did you think someday you'd be chatting about a movie?
Erica Linz: Absolutely not [laughs]! When I started with Cirque, I had just turned 19. I was fresh out of high school and I was terrified. I felt like if I worked harder than anybody had ever worked in history that I might come close to being good enough to be part of this troupe that seemed so otherworldly and untouchable to me. And then after 10 years inside of it, to have the opportunity to kind of be the thread that ties this story of the film together is literally something that I never ever in a billion years could have imagined. But I'm glad it happened. It's been a pretty amazing experience.
Movie Fanatic: Was it different launching a stage show versus a show for a movie?
Erica Linz: Very different. The process of performing for a live audience is a very linear thing in the way that the show starts at seven o'clock and the same music is going to play and it's going to have this arc. You start at the beginning and you end at the end. Then when you're making a movie, it can be completely jumbled up where you might shoot the first scene of the film last. And then you might shoot the second scene seventh. It's all kind of out of order as well as being something that you don't start at the beginning and end at the end. It was an adjustment that way but it seemed like both the film's world had to make compromises in their normal process as well as the circus world having to do that.
Movie Fanatic: What is it about Cirque du Soleil as a whole that has struck such a chord with people?
Erica Linz: I think that one, just entertainment in general that there's just something about unbridled imagination, that we like to see things that remind us of dreams. And we like to see things that are just different, that you would never see walking down the street. But two, I think deep down, when I saw Cirque du Soleil for the first time, it made me imagine what was possible for me in my life. And it turned out that for me, that was Cirque du Soleil. But typically, it's like a gallery of things that seem impossible but aren't because you're watching it happen right before your eyes. I feel like there's something about that that just makes us all hope a little bit.
Movie Fanatic: As a member of Cirque du Soleil, what does it mean for you to have a movie that may reach people who can't get to the theater to see you?
Erica Linz: That's my favorite thing. That's really my favorite thing about the entire project. It's beautiful and I love it. From a very personal standpoint, having spent 10 years in Cirque du Soleil, the cast and the crew of the show is very much my family and have been there through so much of my life. So these are people that I love and I care about and have been with me onstage and offstage for a really wonderful decade. But the first time I saw Cirque du Soleil in real life, it completely changed my universe.
Movie Fanatic: Do you hope it inspires someone out there to do what you do?
Erica Linz: Yes, this kind of gives people a chance, that maybe there's other little girls in Colorado that wouldn't get to see it otherwise that might be inspired. You can just kind of share the magic and you can take it to your living room. We'll do flips at any time. You can put it in at three in the morning and be like, "I want to see some cartwheels." And ta-dah, there you have it.