With the original The Girl with the Dragon Tattoo, Swedish director Niels Arden Opley gave us moments of revenge extolled by Lisbeth (Noomi Rapace) wrapped in a family secret thriller. With his latest film, Dead Man Down, retribution is front and center and permeates throughout.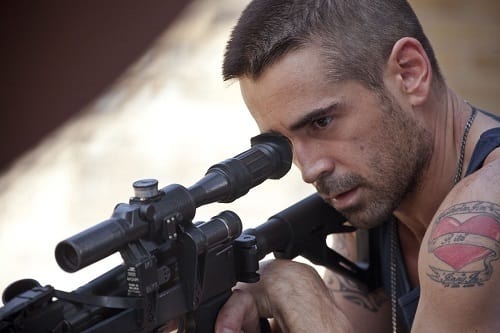 Colin Farrell portrays Victor, a man who has been working his way up into Terrence Howard's criminal crew... all with one eye on the prize. That goal is making Howard's Alphonse pay for killing his wife and young child several years ago. We like our revenge tales, as the iconic phrase says, cold. To see Victor working alongside the man who ordered the violent demise of his family is a lesson in building sizzling suspense. How and when is he going to make Alphonse pay?
Teased in the Dead Man Down trailer, things get complicated when he strikes up a friendship with a woman who lives nearby. Rapace re-teams with Opley as Beatrice, someone who has her own secret that has her seeking payback. When Victor and Beatrice go out on what he thinks is a date, after a lovely dinner, things turn deadly serious.
Meanwhile Victor is carrying out his reprisal and slowly but surely working his way up to the boss who ordered the hit to begin with. His relationship with Beatrice may complicate things, but through Farrell's ferocity the audience can see how this man will not stop until his goal of vengeance is achieved.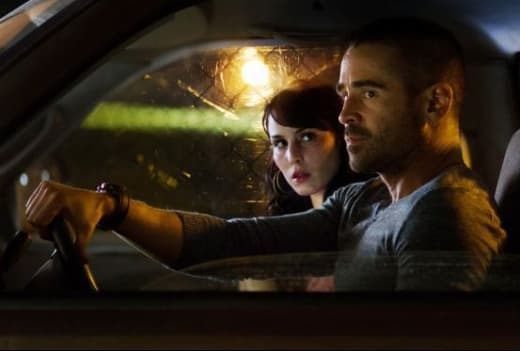 Howard is downright slithery as a man who is all gangster, but who fashions himself as a "businessman." He is grappling with his guilt in that the killing of a woman and her child (that has unknowingly to him put Victor in his crew like a snake in the grass) was never supposed to be a killing. Warning shots were to be fired into the home. Alphonse wanted to scare the tenants out so he could build condos. Through Howard's performance we see that, in the back of his mind, he knows that karma is going to make this right.
Sure, watching this Dead Man Down clip and it is easy to think that the film is a simple revenge flick. But it is so much more. It is a relationship drama wrapped in guilt and vengeance that comes at the audience with the power of a double barreled shotgun. Our Dead Man Down review can say that through the film we see the complexities of seeking justice as a vigilante. Something that appears to be so black and white... simply isn't.