Don't Stop Believin' Everyman's Journey: Filmmaker Finds Arnel Pineda Inspiration
by Joel D Amos at . Updated at . Comments
Don't Stop Believin': Everyman's Journey filmmaker Ramona S. Diaz first became aware of the story of Arnel Pineda in a forwarded email. "Most forwarded emails you don't read it all. For some reason I did this one," Diaz told us in our exclusive interview.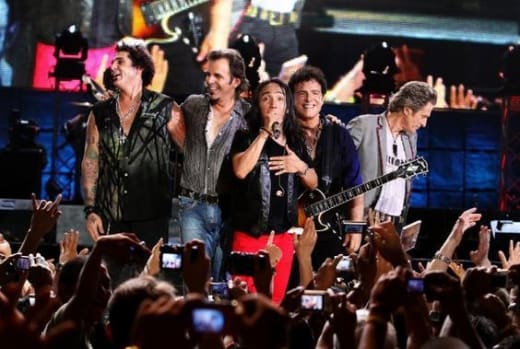 As she read it, the Philippine native had her next film. The story of Pineda is as inspiring as they come. The man would go from the streets of Manila to become the lead singer of one of the most iconic bands in history: Journey. "The story in the email was from an immigration officer of the U.S. Embassy in Manila in the Philippines who had given Arnel is visa to come to the U.S. to audition," Diaz recalled.
Pineda approached the visa agent and said he was in need of papers to travel to America. "The agent had said, 'Reason for visit?' To which Arnel said, 'To audition for Journey.' The agent said, 'Journey? The iconic band?' So, he made him to sing," Diaz said.
"At the end of this email, there was a link, and it was the same link that Neal (Schon, Journey guitarist) had clicked on when he first heard Arnel. I clicked on the link and there was Arnel singing Faithfully. I felt how Neil felt."
Journey became one of the most iconic groups ever due to fantastic songwriting and the angelic singing of Steve Perry. They lost their lead singer in the late 1990's when he retired and had been searching for a new one for over a decade. How do you replace one of the most identifiable voices on Earth? Schon was about to give up when he clicked on that fateful YouTube video.
As teased in the Don't Stop Believin': Everyman's Journey trailer, Diaz's film follows the unbelievable true story that not only plucked a man from third world obscurity to international rock star, but also saved a rock band that truthfully never wanted to go away.
"When I first met Arnel, Journey was rehearsing in Northern California and I had no idea whether he was on board for the film. I just wanted to make sure that he was agreeable to doing it. Also, I wondered if he would be a good subject for a documentary. Then, I met him," Diaz said.
"I knew immediately we had a film here. After getting a gig leading Journey you would think it would go to your head, even if you hadn't started. He was still so humble and that surprised me."
Diaz followed Pineda and the band as they recorded a new album and crossed the planet on what would prove to be one of their most successful tours ever. "It was a real leap of faith for everyone," Diaz said.
"I don't think either of them knew what they were getting in to. They had to fly him in from this small country in Asia. They didn't know he would speak English. It was a learning experience for them, and as the tour progressed it became really successful. They knew they can really have this guy be their permanent lead singer."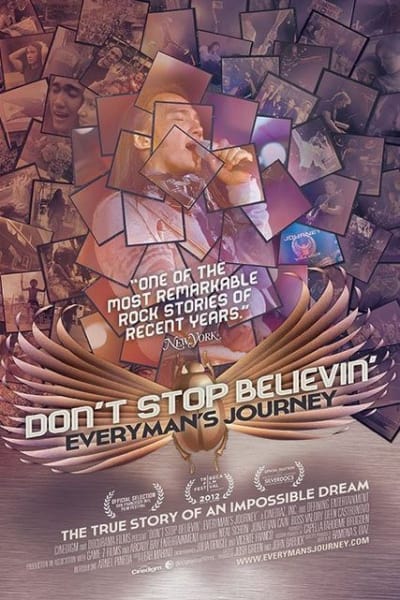 Don't Stop Believin': Everyman's Journey is not only a triumphant story, but also an inspirational one. Diaz chronicles the mostly highs, and sometime lows, of Pineda and his journey… pun intended. In the process, the filmmaker became a fan of the band as well.
"What I have to come to appreciate is what they've done with a catalog of songs that really remains fresh. That's hard to do. I saw it every night when we toured with them. That audience, every time any song began -- and I know they've heard it so many times before -- when the song starts, it's like their born anew. Not all bands can achieve that."
The Filipino filmmaker also took great pride in Pineda's story, and it shows on every frame. "Because I'm of Filipino descent Arnel is like their front man, it's a totally different reaction for me," Diaz said. "I feel like they're mine. They're my Journey."