Dwayne Johnson on The Expendables 3: "I'm Open to It"
by Joel D Amos at . Updated at . Comments
Dwayne Johnson, aka The Rock, met the press over the weekend to talk about his upcoming blockbuster G.I. Joe: Retaliation. Although he did not say too much, he said plenty with answers to questions about future projects Fast & Furious 6, and will he be in The Expendables 3?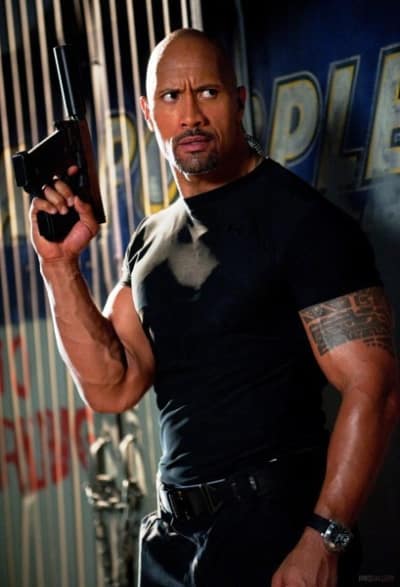 So… is Johnson interested in joining the action juggernaut that is The Expendables movies? "I am open to it, but they are not ready for me," he said and gave that million dollar smile.
Speaking of a guy recently seen on The Expendables 2 poster... at the end of Fast Five during the end credits, there's a scene with Eva Mendez. We wondered about a surprise cameo in Fast & Furious 6 and if the swirling rumors might have a hint of truth to them. Can we count on a Jason Statham appearance at the end of Fast & Furious 6 as he joins that franchise's mythology?
Although Johnson could not confirm, he seemed to appreciate the idea. "I like that," Johnson said. "You go right for it!"
After pressing him, the man who the G.I. Joe: Retaliation director once described as franchise Viagra, Johnson still would not say no. "I'm not sure, we'll see," he said.
Not exactly a denial.
Movie Fanatic likes the sound of this… Johnson becomes a member of The Expendables franchise while Statham joins the world of The Fast and the Furious. Does anyone see a downside?