Hitchcock is out now on DVD and Blu-Ray and in honor of the story of the famed director's effort to make Psycho, Movie Fanatic is looking at his famous blondes and giving our readers a chance to score a Blu-Ray. The film stars Academy Award winners Anthony Hopkins as Alfred Hitchcock and Helen Mirren as his wife Alma.
As teased in the Hitchcock trailer, explored deeply in the film and is also widely known in film history, the helmer was a big fan of blonde actresses and routinely cast them as the leads in his thrillers. Movie Fanatic looks at his most well-known golden-haired stars and your chance to win the Blu-Ray is below!
Vertigo: Kim Novak
Novak was a muse for Hitchcock on more than one occasion, but it is her turn in Vertigo that many consider her best Hitch film. She played the dual roles of the brunette shopgirl named Judy and a blonde woman called Madeleine Elster. Vertigo tells the tale of a former detective (Jimmy Stewart) who had to retire as a result of his crippling depression and... Vertigo!
Psycho: Janet Leigh
Janet Leigh plays a big part of the film Hitchcock (played by Scarlett Johansson) and it was her turn in Psycho that made her a superstar. Her role in Hitchcock's most successful film earned her a Golden Globe Award for Best Supporting Actress and she was also nominated for a Best Supporting Actress Academy Award. For more on Johansson's turn in the film we're proud to be giving away, check out our Hitchcock review.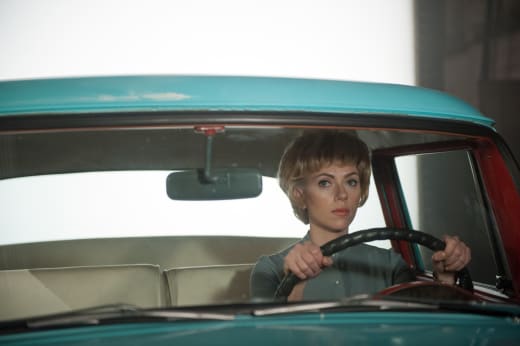 The Birds: Tippi Hedren
Before Hedren became a movie actress, she was a successful model, appearing on dozens of national magazines. She was discovered by Hitchcock during a commercial that aired during The Today Show. She made her big screen debut as Melanie Daniels in The Birds. The actress returned to work with Hitch once again in Marnie, which also starred a future James Bond movies star, Sean Connery.
Dial M for Murder, Rear Window, To Catch a Thief: Grace Kelly
The woman who would become a princess got her start in Hollywood as the actress who would appear in more Hitchcock films than any other actress. She made her Hitch debut in 1954's Dial M for Murder and followed up that stellar turn with roles in Rear Window opposite Jimmy Stewart and To Catch a Thief.
Use the widget below to enter on Facebook or Twitter. There are three unique ways to enter, and by entering all three ways you can increase your chance of winning. A winner will be announced March 24. Good luck!