This past weekend the magic beanstalk erupted onto the big screen revealing a classic fairy tale with a wild new twist in Jack the Giant Slayer, and one that Movie Fanatic found "huge fun" in our Jack and the Giant Slayer review.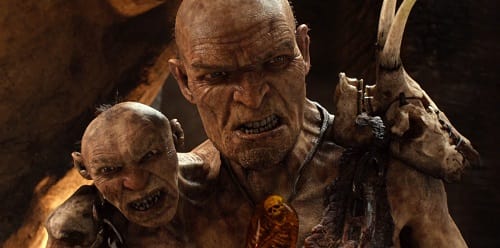 I recently spoke with John Kassir, who lends his voice, or rather sounds, to the role of giant General Fallon's small head in the new film. The actor revealed some insight into the motion capture performances, bringing his character to life alongside Bill Nighy as General Fallon and working with director Bryan Singer.
The character actor's long journey towards success began back in high school telling the morning announcements in a variety of voices from the Beatles to even imitations of certain teachers.
It was taking the wild chance to join Star Search and perform a stand-up routine that allowed him to beat out the likes of Rosie O'Donnell and Sinbad for a grand prize of $100,000 that got the ball rolling.
Yet, it was receiving a casting call for the series Tales From the Crypt, in one of Kassir's most famous roles, that allowed his voice career to take off.
"I went down to the studio and got to see what the Crypt Keeper looked like. I got to add the texture," Kassir said before changing his voice into the Crypt Keeper, "because he has holes in his throat and rotting teeth. He's an ancient guy, with a little Margaret Hamilton from the wicked witch [of The Wizard of Oz]."
Kassir, who's portrayed a variety of characters, loves how voice acting means "that you can play parts that you're not limited to how you look or how old you are, or whether you're even human or not. I mean, I've done a lot of animals, like Meeko on Pocahontas. That's one of the great things about voice-overs is I've gotten to play a lot of villains and heroes, and here I am, a funny character actor who's 5-foot 8-inches tall and 160 pounds."
It was his connection to co-writer and composer Dan Studney of Reefer Madness, a film that Kassir starred in, that got his first introduction to Bryan Singer who happened to be a fan of Kassir's work. So, when Singer called up for Jack the Giant Slayer, he jumped at the part.
"[Singer] needed somebody that could not only come up with the language for this character that has no vocal chords, he talks in all kinds of weird sounds and gurgles, but also somebody who could be physically expressive."
He continued, "Of course when they hired Bill Nighy, I was doing cart wheels, and he wound up being the most amazing person to work with. We had to work out a way to make [portraying the two headed giant] all work. Obviously, we were going to use Bill for the physicality of the body and the main head, so I had to mirror Bill. What we came up with was I would mirror Bill and everything he would do movement wise. When he was rehearsing, I was shadowing behind him. And then I had to act separately with my head and my right arm."
Interestingly enough, the small head's lines in the script would just say "Gak."
"They had this description of my language being weird utterances. Taking a cue from that, I created a language and there's a couple of moments where you can understand what he's saying, but the rest of the time only I knew what the hell I was saying."
But Kassir wasn't limited to just standing in a room reading lines, rather taking part in a motion capture experience that was like "performing in front of NASA."
"We're in a big grey room with all these different cameras, and each day you're logged into the computer like when you step onto what they call the 'Volume.' There's all this information of your face. They've taken thousands of pictures of your face with these dots on them and this phosphorescent paint, so the computer recognizes when you walk onto the 'Volume' and are logged in each day."
He added laughing, "It's funny because if the computer is not capturing it right, all of a sudden, your arm's twisting around the screen and coming out the side of your head."
At the same time, Kassir appreciated Singer's approach to directing the film saying, "Bryan's a focused person and he's generally juggling a lot of balls when it comes to making a movie like this. He was really adamant about making sure that, because motion capture can become really disconnected, the actors came through and the performances came through. He tried to make it organic for us."
If anything, the actor was excited to be playing a character the he said would allow him to use all his gifts, "I got to use my voice talents.  I got to use my mime talents. I got to use my theatrical training. I got to use my dramatic and comedy chops."
While he initially wasn't sure if Singer would take the story super dark or make it accessible to everybody, when he first "walked onto the set and [saw] Stanley Tucci being incredibly fun and doing this wonderful arch-villain, you're going okay, now I can go a little further with this." Proof of that is all over the Jack and the Giant Slayer trailer.
On top of that, Kassir was pleased that while General Fallon was a character that "could have just been the dark giant villain, ended up having so much color to him that he could be the scariest creepy villain and at times winding up being the funniest character. And also even touching."
The star even revealed that the classic "Fee, Fi, Fo, Fum" is cleverly used as the names of some of the giants in the film.
So what will make people enjoy this version of Jack and the Beanstalk?
Kassir proudly said, "It brings a classic fairy tale to life in a big way with modern technology that you are going to experience it as if you are in the world."
He added enthusiastically, "I can't wait to go see it in IMAX because, 3D was great as there were times where you felt you were standing in front of a giant and at times the giant looking down on people. Getting that inertia and ground rush, with IMAX it'll make it even more that experience. Disneyland has nothing on this movie."