As Movie Fanatic said in our Killing Them Softly review when the film hit theaters last year, the flick is an extremely adept newer look at the sometimes tired genre of gangster movies.
Although it is not on our Top 10 Gangster Movies of All-Time, it sure infuses the best of the genre and also simultaneously pushes the cinematic envelope. Now that the Brad Pitt-starring film is out on DVD and Blu-Ray, it should continue to garner a fan base.
Pitt plays a mob enforcer who only gets called into a situation when it needs to be "handled." You get it… Pitt's Jackie comes in and basically kills all those involved.
Shown in the Killing Them Softly trailer, the film is the story of a couple of amateur crooks who think that they have it made by robbing a mob-sponsored poker game in their town. See, Markie Trattman (Ray Liotta) robbed his own poker game several years prior and their theory is that he was given a slap on the wrist and that if it happened again, surely the blame would go right to him.
So our wanna-be gangsters head into Trattman's game and rob them blind. That's when Pitt steps in and the film truly takes off to exemplary heights.
The film is highly stylized and its cast is top notch. Beyond Pitt and Liotta, writer-director Andrew Dominik has compiled an all-star group that includes James Gandolfini -- totally playing against type -- Oscar nominee Richard Jenkins and Sam Shepard.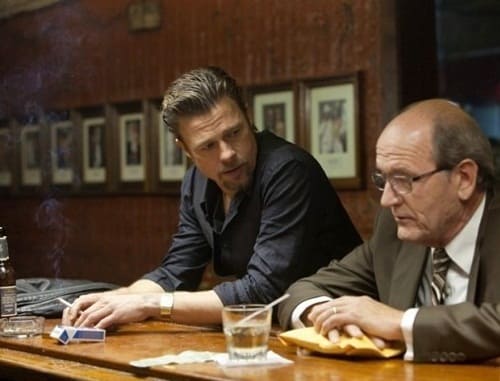 The special features on the DVD are a little sparse. The Making of Killing Them Softly is quite fascinating as it delves deeper into Dominik's creative process and gives audiences a first-hand account of how the movie was made into crime film magic. And then there are several deleted scenes that add layers to the viewing experience after the film is witnessed.
The Killing Them Softly home video release is clearly not one that is purchased for the extras. This is one fine piece of cinematic work and for that alone, the film is worth adding to the collection.