Colm Wilkinson originated the role of Jean Valjean in the West End debut of the musical that would become a sensation, Les Miserables. It was only fitting that producers of the big screen version of the musical smash cast Wilkinson in their film. As the Oscar winning Les Miserables hits DVD and Blu-Ray this week, we spoke to Wilkinson for an exclusive interview.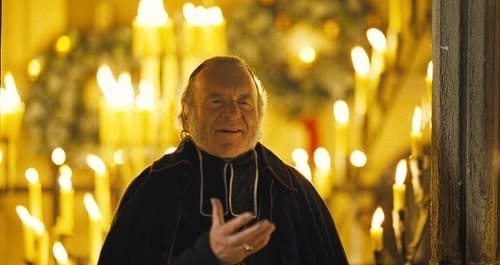 Wilkinson takes us through the musical's humble beginnings and how no one thought a dark toned musical would ever make it amongst a landscape of song and dance stories. Wilkinson also gives us his take on the power of Les Miserables, now that it has arrived on the big screen with Hugh Jackman, Anne Hathaway, Russell Crowe and directed by Tom Hooper.
Movie Fanatic: As the one who originated the part of Jean Valjean, what did you think of Hugh Jackman as Jean Valjean?
Colm Wilkinson: Hugh did an amazing job. Given the challenge that he had in learning that part, the physicality of what he did in that was just unbelievable. Hugh Jackman went from this thin, emaciated, brutalized man to this sort of mayor who was a totally different character. That transformation to me was so incredible that Javert would not recognize this man. I thought Hugh did an amazing job on that. I also thought there was the arc of the story, the way he told the story emotionally. It's all done out of sequence. He did the death scene five or six months before he tackled the main part of the movie. So to actually put all that together emotionally and chart that graph was just amazing.
Movie Fanatic: As you got a chance to be a part of the movie and play the Bishop, what else struck you about the production?
Colm Wilkinson: Huge respect for Hugh Jackman and his work ethic, not only for him but Anne Hathaway and all those people who could stand up day after day after day and do take after take after take in the cold and the rain with this tiny little monitor in their ear. It was unbelievable what they did. And that's so special. They captured that live emotion, raw emotion, right there on the set.
Movie Fanatic: Did you think Les Miserables would be the sensation that it's become?
Colm Wilkinson: No. We knew when we were doing it that it was quite special because there were a lot of different elements. First of all, it was quite serious. There was nothing like that out there at that present time on Broadway, on the West End, or anywhere else in the world. It was like the drama set the music. It wasn't like a musical. We knew that it was a great story. It was quite spiritual. It was quite horrific in places. But it had a wonderful basis of a book, the Hugo book Les Miserables, which was a masterpiece in its own way.
Movie Fanatic: When you first started as Jean, what struck you about this role -- this musical -- that you had to do it?
Colm Wilkinson: The part was so beautifully defined and written that you could really identify with the person emotionally as well as physically. Then you had two French guys writing it. I don't think any other nationality could have written that musical. They had to be people who were where Hugo was born. They had to be people who venerate Hugo which they did as their Shakespeare. And the music just fit perfectly with it.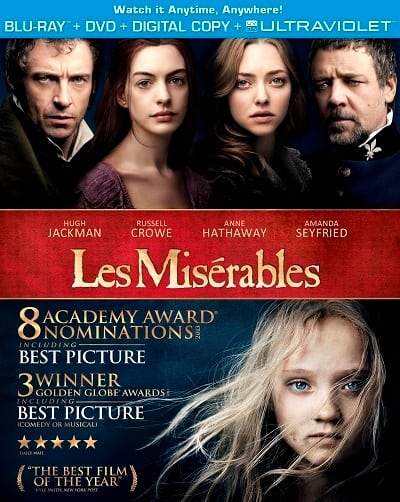 Movie Fanatic: What was the biggest challenge tackling Jean?
Colm Wilkinson: I knew myself as I was learning this role that it was going to be quite difficult to do, vocally as well as physically, carrying guys on your back. But we also knew once the thing was in place -- it was a very, very emotional and special piece because people would come to see dress rehearsals and go away in absolute fits. They were crying and sobbing and yet very uplifted at the same time.
Movie Fanatic: What do you think the strongest message from the work is?
Colm Wilkinson: I think the message that a man could redeem himself and how people could challenge for their rights and how that's still typical and topical today. People trying to make a life for themselves after they come out of the penal system, trying to fit back into society. The goodness that one person can do, one good gesture in one man's life, like the Bishop changing Jean Valjean's by that one gesture because this man Valjean was used to brutality, to being treated as a piece of dirt all his life in the penal system. His actual kindness towards Valjean and lifting him out of that situation and giving him a new direction and a new motivation for his life, a lot of people identified with that. There was hope.
Movie Fanatic: What does it mean to you that it's on the big screen and now Blu-Ray and DVD and can reach more people?
Colm Wilkinson: It's incredible. I can't believe the amount of reaction I'm getting personally from the movie. You've got a whole new generation of people coming up. I've got guys coming up to me all of the time, saying, "I started in the business because I saw Les Miserables and I saw you." You'd be amazed at the amount of young actors who are on screen and in TV who started with Les Miserables.