This time of year is always such a joy for the home video market as last year's Oscar contenders slowly make their way onto DVD and Blu-Ray. The latest arrives today and it's the cinematic version of the phenomenon that is Les Miserables. Anne Hathaway won an Oscar for her tragic role as Fantine. Although she is only in the film for merely minutes, she makes the most of every second.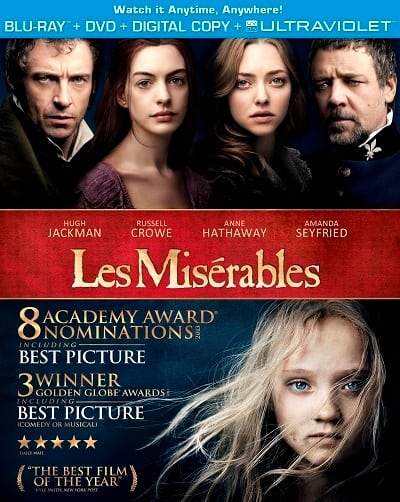 There has been a legion of fans hopelessly devoted to Les Miserables since the stage musical debuted on the West End in the late 1970s. Musicals were traditionally song and dance joy-fests and Les Mis changed all of that. Heck, just listen to the song that essentially won Hathaway the Oscar in this Les Miserables trailer -- I Dreamed a Dream -- and you'll realize this is a new breed of musical.
Les Miserables has toured the world as a musical production, yet there are millions who adore the soundtrack who have still never seen it. When it hit theaters last winter, those people could now find their way to the Cineplex and see their favorite musical onscreen. For the millions more who did not make that trek, the Les Miserables DVD and Blu-Ray release is a gift from heaven.
As we stated in our Les Miserables review, the highlights of the film are Hugh Jackman as Jean Valjean and Hathaway. It is uncanny the power that Jackman possesses. Not only does he hit all the right dramatic notes, his vocal prowess is brilliant. The entire cast brings their A-game, but this home video release has so much more going for it than a film that is sure to enthrall those millions of Les Mis fans.
Among the extras that are sure to delight is Les Miserables Singing Live, the documentary on how director Tom Hooper famously made his performers sing live. Normally when making a movie musical, they record in a studio, and then lip-synch on the set. With Hooper's insistence on live singing, as the featurette shows, there is an emotional powder keg unleashed with each song.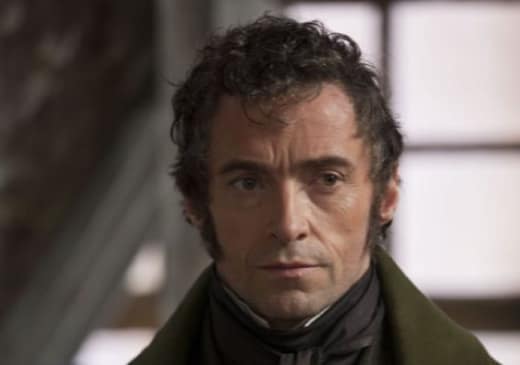 Fans of the musical will also appreciate the feature that looks at the origins of the legendary stage show that began on London's West End, thanks to super producer Cameron Macintosh -- who incidentally was deeply involved in the filming of the movie. The doc looks at Macintosh's prophetic vision and the original stage stars that make supporting appearances in the film.
And lastly, one cannot own the Blu-Ray or DVD of Les Miserables and not sit down to witness the mini-documentary The Original Masterwork: Victor Hugo's Les Miserables which gives a priceless look at the original literary classic and the source material behind the musical sensation.