One may think that the visual marvel that is Life of Pi would be lost completely by witnessing Ang Lee's magic at home. As Movie Fanatic got the Blu-Ray/DVD combo pack for review we can firmly state that is as far from the truth as possible. Sure, as we stated in our Life of Pi review when the film hit theaters, the big screen is quite the canvas for Lee's masterwork, but gorgeous is gorgeous... regardless of scale.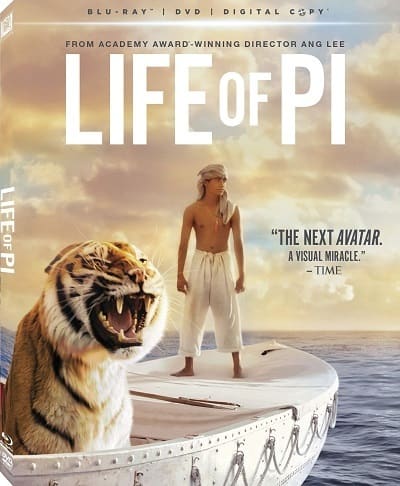 As seen in the Life of Pi trailer, Lee has filled the screen with a visual majesty that is simply uncanny. Toss in the fact that the story of an Indian young man who has survived a shipwreck that claimed his family is powerful beyond compare and this DVD/Blu-Ray may be the first must-own of 2013. Once the ship's wreckage sinks and Pi is safely in his lifeboat, he makes the most unusual of discoveries. He is not alone... his survival companion is a Bengal tiger. Needless to say, they don't get along so well at first!
Their story, and the way that Lee (in work that earned him this year's Academy Award for Best Director) frames it with flashbacks and flash forwards, is as powerful as they come. It seems as if it would be the simplest of stories, but there is so much here. Is it a story of faith and religion, or perhaps just fate and the unstoppable human spirit? Either way, Life of Pi is a marvel.
The Life of Pi extras are somewhat limited, but powerful nonetheless. There are three documentaries of varying lengths. Remarkable Vision is a 20-minute look at the production and how the Academy Award-winning team managed to bring the unfilmable vision of the book to life onscreen. Our only negative thought on this one was that we wish it were longer!
Epic Journey clocks in at 60 minutes and takes the audience from page to screen. It is in this doc that the audience can truly get a sense of the marvel that is Lee and his uncanny ability to craft movie experiences that are unlike any other.
Lastly, Tiger, Tiger Burning Bright may only be five minutes in length, but its power is immense. The tiger named Richard Parker, at the heart of the story, is as important a character as Pi himself. And in the five short minutes of this feature, we learn how filmmakers brought him to life.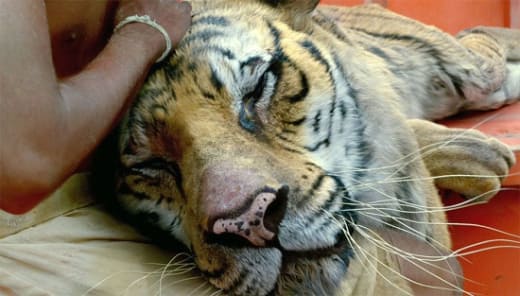 Normally a collection of stills is an "eh" moment for a DVD or Blu-Ray release. But with a film as visually stunning as Life of Pi, the home video extras highlighting Lee's beautiful canvas are enlightening to say the least. They are truly pieces of art, broken into four sections: The Art of Joanna Bush, The Art of Haan Lee, The Art of Dawn Masi and The Art of Alexis Rockman. Each is worthy of simply putting on your screen and staring at the marvel that is film as art worthy of framing.
And given the complexity of Lee's challenge bringing the book to life, the inclusion of the storyboards is a gift to film fans. You really get a sense of how the crew got from point "A" to point "B" on this project.