It's surprising, but with all the promo material for Man of Steel that's been released over the last several months, we have yet to see Amy Adams as Lois Lane. Until......riiiiiiiiiiiighhhhhhhhtttttt.............
NOW!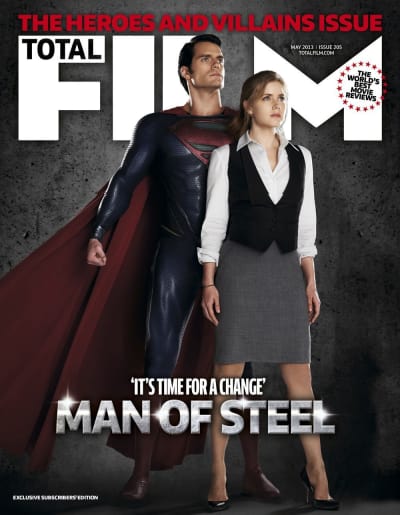 Adams adorns the cover of the next issue of Total Film, along with Henry Cavill as Superman. The Superman reboot tells the story of Clark Kent as he turns his alienating abilities into world-saving superpowers, donning the cape for the first time.
Michael Shannon stars as General Zod, with Russell Crowe (Les Miserables) as Jor-El. Diane Lane, Kevin Costner, Laurence Fishburne, and Christopher Meloni also star.
Man of Steel is directed by Zack Snyder and will premiere June 14. Watch the Man of Steel trailer for more.