Oz: The Great and Powerful met and slightly exceeded expectations of Disney with its first weekend of release. The box office champ this week banked $80.3 million to score the third highest March debut ever behind The Hunger Games and its $152 million debut and Alice in Wonderland and its $116 million premiere.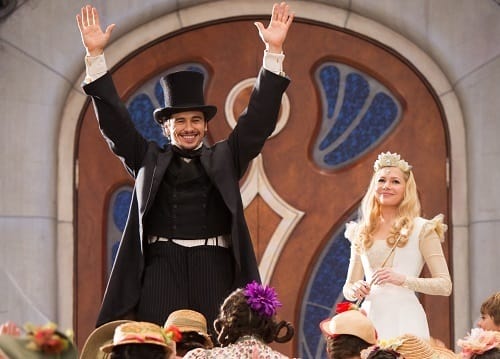 The James Franco-led prequel to The Wizard of Oz easily dominated the weekend movie scene as the second place film, Jack the Giant Slayer, was far behind with its $10 million take.
Director Sam Raimi's epic is rumored to have cost close to $200 million. With the $80 million domestic gross and an estimated $70 million gross thus far from overseas, the film will easily turn a profit in the middle of the week. Therefore those rumors of a sequel already being green-lit can be moved from the will they to the why won't they column.
Last week's box office winner, Jack the Giant Slayer -- on the other hand -- has a large hill to climb to get back its investment. Thus far, the film has made $43.8 million... a long way from its $195 million budget.
Third place finds a film that just won't go away, and that's not such a bad thing as the solid comedy Identity Thief added another $6.3 million to its blockbuster haul of $117 million. Just behind that Jason Bateman-Melissa McCarthy film is Dead Man Down and closing out the top five is Snitch.
Box office top 10:
1. Oz: The Great and Powerful, $80.3 million
2. Jack the Giant Slayer, $10 million
3. Identity Thief, $6.3 million
4. Dead Man Down, $5.4 million
5. Snitch, $5.1 million
6. 21 and Over, $5 million
7. Safe Haven, $3.8 million
8. Silver Linings Playbook, $3.7 million
9. Escape from Planet Earth, $3.2 million
10. The Last Exorcism Part II, $3.1 million