The new poster for Oz the Great and Powerful advertises the midnight IMAX screening of the Wizard of Oz prequel: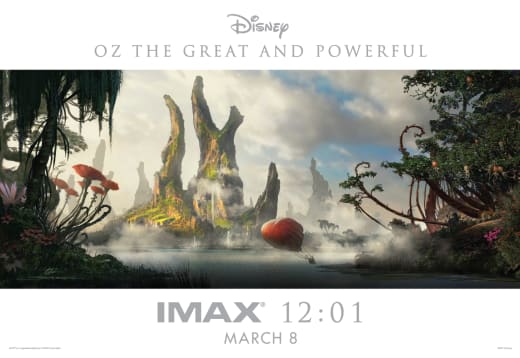 James Franco (Spring Breakers) stars as Oscar Diggs, a circus magician who is transported to the land of Oz, where he is presumed to be the fabled Wizard by its inhabitants. Diggs eventually helps the land in an epic fight between good and evil, and transforms himself along the way.
Mila Kunis (Forgetting Sarah Marshall), Michelle Wiliams, and Rachel Weisz star as the three witches, with Zach Braff, Joey King, Abigail Spencer, Ted Raimi, and Bruce Campbell also starring.
Sam Raimi directs the film, which premieres in theaters and in IMAX at midnight on March 8. Watch the Oz the Great and Powerful tv spot for more.